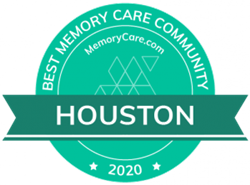 HOUSTON (PRWEB) July 28, 2020
MemoryCare.com, a comprehensive resource for caregivers and older adults living with memory impairment, has announced the Best Memory Care Facilities in Houston, Texas. The guide identifies 7 memory care communities based on location, access to experts, facility features and amenities.
According to the Alzheimer's Association, 5.6 million people age 65 and older are living with Alzheimer's dementia. In Houston, the number of senior deaths related to Alzheimer's increased by 30 percent between 2013 and 2017. Memory care facilities offer activities and therapies to help delay or halt cognitive decline. They also give family members and caregivers peace of mind by providing a safe environment for loved ones.
"There's a high demand for quality memory care all across our nation; specifically, in cities like Houston, which experienced a rapid increase in Alzheimer's related deaths," says Joyce Collins. "MemoryCare.com provides free resources to help families find the best facilities."
Through hours of research and an intensive selection process, MemoryCare.com was designed to help caregivers find effective solutions for their loved ones. The website not only highlights the best facilities in the city, it also shares information about cost, reviews from residents, type of care offered and more. For a detailed listing of the Best Memory Care Facilities in Houston, Texas, please visit https://www.memorycare.com/houston-tx-facilities/
2020 Best Memory Care Facilities in Houston, Texas (in alphabetical order)
Apex Oaks Assisted Living & Memory Care"
Phone: 281-469-8800
Address: 13702 Wimbledon Oaks Dr, Houston, TX 77065
Web: apexoaks.com
Bedford Residence Assisted Living
Phone: 281-498-3301
Address: 11718 Bedford St, Houston, TX 77031
Web: bedfordresidence.com
Ella Springs Senior Living Community
Phone: 281-215-5985
Address: 16700 Ella Blvd, Houston, TX 77090
Web: ellasprings.com
Parkway Place
Phone: 281-556-9200
Address: 1321 Park Bayou Dr, Houston, TX 77077
Web: bucknerparkwayplace.org
Pathways Memory Care at Villa Toscana
Phone: 281-315-1450
Address: 2930 Cypress Grove Meadows Dr, Houston, TX 77014
Web: pathwaysmemorycare.com
The Abbey at Westminster Plaza
Phone: 281-556-6020
Address: 2865 Westminster Plaza Dr, Houston, TX 77082
Web: abbeywp.com
The Buckingham
Phone: 713-309-6934
Address: 8580 Woodway, Houston, TX 77063
Web: buckinghamhouston.com
The Cottage of Spring Branch
Phone: 713-461-1500
Address: 1842 Hollister Rd, Houston, TX 77080
Web: thecottagesb.com
The Farrington at Tangle Wood
Phone: 713-532-1718
Address: 505 Bering Dr, Houston, TX 77057
Web: pegasusseniorliving.com
The Shores at Clear Lake
Phone: 281-823-8088
Address: 19400 Space Center Blvd, Houston, TX 77406
Web: theshoresatclearlake.com
The Solana at Vintage Park
Phone: 281-320-9000
Address: 19929 Chasewood Park Dr, Houston, TX 77070
Web: brookdale.com
The Tradition - Buffalo Speedway
Phone: 713-715-1905
Address: 9339 Buffalo Speedway, Houston, TX 77025
Web: traditionbuffalospeedway.com
The Village of Meyerland
Phone: 713-665-4141
Address: 4141 N Braeswood Blvd, Houston, TX 77025
Web: villageofmeyerland.com
ABOUT MEMORYCARE.COM
MemoryCare.com provides tools and resources to help adults living with memory impairment and their families. The online guide uses data-driven research and expert evaluations to identify the best facilities across the nation. The MemoryCare.com team includes medical and elder care professionals as well as board of directors. For more information, visit https://www.memorycare.com/.