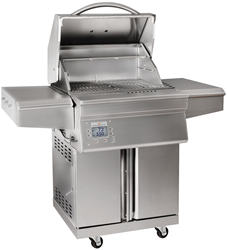 Memphis has a passion for good food and has brought the art of wood fire cooking to the next level with its versatile products that grill, smoke, roast, bake and sear, all at the touch of a button.
BLOOMINGTON, Minn. (PRWEB) August 21, 2019
Summer is in full swing, the time for enjoying the outdoors, long weekends at the lake and, of course, barbecuing. The Memphis Wood Fire Grill family is celebrating the season with the launch of a new wood fire grill that offers grilling enthusiasts the versatility of its flagship brand at a price point that fits most budgets.
The highly anticipated Beale Street line has arrived, and, like its high-end Memphis predecessors, the Beale Street provides precision and expertise to wood fire grilling and the ability to smoke, grill, roast, bake, and sear over a direct flame.
In addition to its multi-faceted functionality, the Beale Street offers the same polished, sophisticated look that the Memphis brand is known for, including the best temperature control system in the industry. This exclusive 1-touch Intelligent Temperature Control™ system boasts years of proven performance and connects to the Cloud-based Memphis Mobile App, allowing users to check or adjust their grill temperature on-the-go (from the sofa, to the golf course, to virtually anywhere). With the ability to cook at temperatures of 180° to 550°, the Beale Street does not take a back seat in grilling performance, with up to 817 square inches of cooking surface (using the optional grate) and a 12-lb pellet capacity with convenient front-loading hopper. Like the Memphis Pro and Elite, the Beale Street also sports durable, oven-grade gasketing. Even more enticing is the fact that the Beale Street requires very little assembly—only its shelves and cabinets need to be put together. And, although all 430 stainless steel, the Beale Street boasts an affordable price tag of $1,999, making this grill and smoker the premier option among other brands in the market today.
According to the Hearth, Patio & Barbecue Association (HPBA), seven out of ten U.S. households own a grill or smoker, and sales of wood fire grills grew by 9.1 percent last year – outpacing gas, charcoal and electric as the fastest growing segment in the market. With its moderate price tag, the Beale Street looks to be another catalyst in the growing pellet, wood fire market, and timing couldn't be better with the biggest outdoor cooking season at its peak. While people now grill year-round, the biggest days of the year are Memorial Day when 60 percent of us will grill, July 4 (73 percent), and Labor Day (58 percent).
Why are consumers choosing wood fire over other fuels? Flavor. Sustainability. Control. Wood fired cooking creates fantastic flavor, searing in juices and creating savory meats, poultry, vegetables and more. It's among the strongest selling points for consumers. Wood as a fuel source is also 100 percent natural and renewable, which matters to many people, and provides options for flavoring food, depending on the type of wood. With the addition of precise temperature control features, including true searing and convection cooking capabilities, select wood-fire grills have become more like high-end outdoor appliances. Simply set the temperature and let your grill do the work.
About Memphis Wood Fire Grills
Memphis Wood Fire Grills™, a division of Dalsin Industries, prides itself on innovation, craftsmanship, and dedication to customer satisfaction. We create consumer and environmentally friendly grills that enhance lifestyles and personal comfort while revolutionizing outdoor cooking with our technically advanced, 3-in-1 Cooking Centers that grill, smoke and bake. Founded in 2009, Memphis Wood Fire Grills designs, engineers and tests their products in a state-of-the-art, 135,000-square-foot facility in Bloomington, Minnesota.