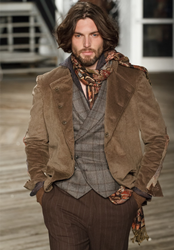 The ability to integrate Abboud's vision through men's skincare secures MËNAJI as the brand of choice for fashion's most esteemed designers.
SOUTHPORT, Conn. (PRWEB) February 09, 2019
"Give me your tired, your poor, your huddled masses yearning to breathe free," wrote Emma Lazurus, which is forever inscribed on the Statue of Liberty as she welcomes weary travelers in search of a new life. Poetry that further serves as the inspiration for Joseph Abboud's Fall 2019 collection. Paying homage to turn-of-the-century immigrants, makeup artist Judy Chong further sealed the image by using MËNAJI's range of men's skincare products and undetectable cosmetics on the models.
The ability to integrate Abboud's vision through men's skincare secures MËNAJI as the brand of choice for fashion's most esteemed designers. And not just for high impact performances but lifelong healthful habits that models and makeup artists swear by.
Abboud models looked rugged, handsome, and evoked the period details of travelers who endured a hard journey for a better life. The theme's symbol were abundant, first from the South Street location, where models went up the bowels of the ship, down a gang plank, and dazzled the audience who were suddenly transported to another time.
"To further the vision of this epic collection, MËNAJI's ClearShave was used to prep the skin since the models had some facial hair to touch up the beards," says MËNAJI President Pamela Viglielmo. "The Power Hydrator moisturized and primed the skin for other products, such as our concealer sticks that covered up unsightly areas. Our Anti-Shine powders knocked out shine, which worked well under the cameras. The results reinforced the story of an immigrant arriving to America."
Abboud's fashions were layered, rich in earth tone colors and fabrics. Vests, scarves, jackets with twice-waist wrapped belts, tapestry fabric carpet bag handles and warm kid leather gloves were the details to evoke the period. MËNAJI's ability to make men look good and natural ensured a spectacular runway show in respect to their quality products and undetectable cosmetics with high DEF coverage.
Says Abboud, "Set in the spirit of Ellis Island at Pier 16—part of the South Street Seaport Museum—this show honors who we were and who we are. As the grandson of Lebanese immigrants, it gives me great pride to celebrate America's rich tapestry and diverse heritage the best way I know how: By making timeless, authentic, and quality clothes for all Americans."
Get the MËNAJI + Abboud Look: The curated grooming kit for Joseph's Abboud Fall 2019 Collection included ClearShave, Power Hydrator and CAMO Conceler. Skin perfecting products used to prime the skin, hydrate, and add shading in a neutral earthy color palette to conjure up images of the handsome rugged traveler. 
Credits:
Makeup –  Judy Chong for MËNAJI
Hair –  Thom Priano for R+CO
Production – Moda Tech
Social Media Tags: @menaji_skincare @realurbancamo @juju_glam
ABOUT MËNAJI WORLDWIDE
For nearly 20 years, MËNAJI has been recognized as the established leader in offering products specific to a man's needs while investing in research and product testing to create the best formulations a man can use. The company has enjoyed a meteoric following, coinciding with the social media mentality that a man's self-esteem is improved when looking his best.
Refining the standards men have toward their grooming regiment, MËNAJI is known for such cutting-edge products as Liquid Powder Shine Eliminator, the product makeup artists swear by due to its results-driven performance as well as the Urban Camouflage Concealers that coverup dark circles and blemishes with a natural application.