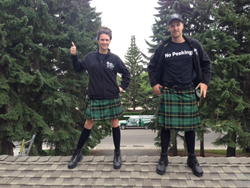 Gareth and Stacey are going to make excellent Franchise Owners and do very well for themselves and the brand. - Founder, Nicholas Brand
Kelowna, BC (PRWEB) August 11, 2014
Men In Kilts Kelowna opens for business Friday August 15th, 2014 and will be the eleventh location to open since franchising began in 2010 and the third in the province of BC. The franchise will service the communities of Kelowna, Westbank, Vernon, Penticton, Osoyoos, Summerland, Grand Forks and Oliver and offer Window Cleaning, Gutter Cleaning, Siding Cleaning, Pressure Washing and Snow Removal services to residential and commercial customers.
Franchise Owners Gareth Rider and Stacey Steele transitioned into the window cleaning business after spotting their very first tartan truck. Gareth says, "Throughout our research into franchises, Men In Kilts kept showing up in our searches. We read a lot of reviews about the franchising opportunities in various publications across North America. We started to see their trucks driving around town all the time and one day while we were on site painting a client's house, I looked out the window and saw Men In Kilts next door cleaning out the gutters - the decision was made!"
Gareth and Stacey, now kilted technicians themselves, used to run their own painting company in Calgary, AB, but wanted a change - which included a move to BC - and starting a Men In Kilts franchise allowed them to do that.
Stacey says, "Growing our painting business in Calgary came with many hurdles and growing pains. A major one being our marketing and branding needed an overhaul. Men In Kilts provides us with the support we really needed in the areas we were facing troubles with in our previous business; investing in this franchise has been the best thing we've done to date."
Men In Kilts' Founder Nicholas Brand is excited that another franchise is opening in the same province where it all started. "By opening a third location in BC we are definitely making a name for ourselves on the west coast of Canada and I can't wait to see what happens next. Gareth and Stacey are going to make excellent Franchise Owners and do very well for themselves and the brand."
So far the attention they have received roaming about the Okanagan in their kilts has been great. Rider says, "There have been lots of smiles, laughs and questions asking us if we actually clean in our kilts. Naturally, Stacey has been getting a lot of attention because she is a female in a kilt which has sparked many conversations. Stacey's favourite response to that is, 'Someone has to keep these men in line.'"
When asked what they are most excited about as they begin their new adventure Stacey says, "We're excited about spreading the word and providing the quality service Men In Kilts has to offer to the Kelowna/Okanagan Valley. We can't wait to grow the business and push it to all it can be while bringing smiles to the world....one kilt at a time."
Customers can begin scheduling their services by going to the Men In Kilts website or calling 1-800-777-5458.
-30-
About Men In Kilts
Men In Kilts was started in 2002 by Nicholas Brand with a squeegee and a hand-sewn kilt made by his wife. The first franchise was opened in 2010 in Vancouver and has since grown to eleven locations across Canada and the US. The company continues their successful expansion across North America, with plans to be in every major market by the end of 2017.
For more information on Men In Kilts, or to see them in action, please contact Megan Nemeth at pr(at)meninkilts(dot)com or visit http://www.meninkilts.com. For franchise information, visit http://www.meninkiltsfranchise.com.
--high-resolution images available upon request--