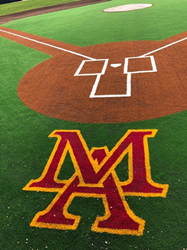 The new field will benefit our team, giving them a low-maintenance and safe field to play on.
ATHERTON, Calif. (PRWEB) February 19, 2020
Menlo-Atherton High School has been recognized as a school of excellence in both academics and athletics. Located in a suburban community between San Francisco and San Jose, this high school has been named one of the top secondary schools in the nation by the United States Department of Education. Additionally, the school is a member of the Peninsula Athletic League (PAL) and the winner of the Commissioner's Cup for the last eleven consecutive years. In 2017, their Athletic Directors were awarded the title of NorCal Athletic Director of the Year by the California Coaching Association.
There are nearly 60 sports teams and 15 sports offered at Menlo-Atherton at the varsity, junior varsity, and freshman levels. This year, the baseball team made a big improvement to their playing field.
"We replaced our old infield turf with new turf and added some square footage outside the dugouts and around home plate," said Paul Snow, Athletic Director at Menlo-Atherton High School.
Bettencourt Field has been the home field for the Menlo-Atherton baseball teams for over 15 years. Even the original turf was 15 years old. In need of repair and renovation, the school decided to install Shaw Sports Turf's TruHop synthetic turf specifically designed for baseball fields.
The final install included 12,189 square feet of Shaw Sport Turf's TruHop. TruHop was developed by Shaw Sports Turf, along with baseball Hall-of-Famer John Smoltz.
"Baseball is a purist's game," said Smoltz. "That's why it's so important for synthetic turf fields to look and play like natural grass fields. That's why I worked with the R&D team at Shaw Sports Turf to develop the TruHop system."
Smoltz likened the TruHop system to a five-tool player in baseball. A five-tool player is one who can field, throw, run, hit for average, and hit for power.
In synthetic turf, a five-tool player is a field that has great aesthetics, is always available, provides performance and durability, allows reduced maintenance, and is safe.
Smoltz cites the consistency and availability of the system for hosting games. The system can be designed to feature turf on all parts of the field, including the mound, batter's box, and base paths. Infill levels can be adjusted to different locations on the field to adjust the levels of firmness and speed.
Menlo-Atherton chose Shaw Sports Turf for the quality and cost, among other reasons. And so far, it's been a decision in which the school has been very pleased.
"The price was right, and we've been happy with Shaw at our stadium location," said Snow.
The project was completed on January 31st, 2019, just in time for baseball tryouts to begin, which happen to also be the first activity held on the new turf.
Bettencourt Field is a cornerstone of the athletic program at Menlo-Atherton High School. The entire school is looking forward to the many benefits of a brand-new synthetic turf field, from a safer playing surface to the overall aesthetic qualities of the turf.
"The new field will benefit our team, giving them a low-maintenance and safe field to play on. It also helps modernize and beautify our campus and athletic facilities," says Snow.
With the project completed and baseball season in full swing, the baseball team is ready for their best season yet.
"I'm ecstatic Shaw Sports Turf could be involved with the Sequoia Unified School District and Menlo Atherton High School. It was great to work with the district and Menlo Atherton High School athletic department team to make the project happen. This will be something the school can be proud of for years to come," said Matthew Cohen, Shaw Sports Turf Territory Manager,.
ABOUT SHAW SPORTS TURF
A wholly-owned subsidiary of Berkshire Hathaway Inc., Shaw Industries is a full flooring provider to the residential and commercial markets. Shaw supplies carpet, hardwood, laminate, resilient, and tile/ stone flooring products, as well as synthetic turf. Shaw Sports Turf is one of the leading synthetic turf companies in North America and has represented quality and innovation for more than two decades with over 3,000 successful installations, including an impressive list of high-profile field installations. For more information please visit http://www.shawsportsturf.com, call 866-703-4004 or find us on Facebook, Twitter, LinkedIn and Instagram.