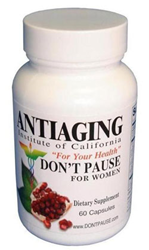 Beverly Hills, CA (PRWEB) August 11, 2015
The AntiAging Institute of California is now offering a special promotion on DON'T PAUSE, a natural menopause supplement. DON'T PAUSE is specially formulated with natural herbs that have been used for centuries to manage hormonal symptoms, in addition to vitamins and other nutrients that can help support healthy overall function during menopause times of change. Menopause can bring many different symptoms ranging from menopause food allergies and anxiety, to bloating and irritability.
Some menopause symptoms can result in causing other symptoms to occur. Menopause trouble sleeping can interfere with a woman's ability to function properly. She may suffer from brain fog, depression and weight gain, because she is unable to get the sleep that she needs. Natural supplements, such as DON'T PAUSE, can alleviate the sleeping difficulties and improve function in other areas of life. Supplements are becoming increasingly popular, and recent research indicates they can also be extremely effective. For example, green tea has been used for centuries for health purposes, while recent animal studies indicate that it may inhibit tumorigenesis in the organs, such as the skin, stomach, colon, pancreas and mammary glands. Green tea has been linked to apoptosis, also known as cell suicide, in cancer cells, and the polyphenols may offer a protective effect.
Women who are suffering from water retention menopause, muscle pain, bloating and breast tenderness may find some relief through lifestyle changes, including:

Proper diet
Regular exercise
Good sleep hygiene
Stress reduction techniques
Natural supplements
This special offer for DON'T PAUSE allows women to buy three bottles of DON'T PAUSE and get a fourth bottle at no charge. DON'T PAUSE is designed to address the 45 symptoms of menopause as identified by Dr. Shoreh Ershadi of the AntiAging Institute, including digestive problems menopause.
About Dr. Shoreh Ershadi and the AntiAging Institute of California
The AntiAging Institute of California offers anti-aging supplements and natural herbal products designed to address common age-related concerns, such as menopause. Dr. Shoreh Ershadi is the president and CEO of the AntiAging Institute of California. She is an expert in the field, as a graduate of Tehran University and the Medical School of Newcastle upon Tyne. As a member of the American Heart Association and the American Society for Reproductive Medicine, Dr. Ershadi is committed to providing people with positive, healthy solutions and the information they need to make good choices as they age.