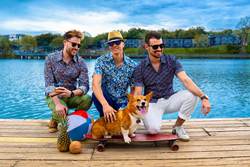 NEW YORK (PRWEB) August 24, 2020
You know who they are. The guys are walking tall and stand out in a crowd. And, when it's time to play and relax with friends, they put on the styles that let everyone know they're reaching for the brass ring. Now's the time to help make them famous.
It's one of the most talked about new men's clothing labels and Chuck Brass is seeking Millennial and Gen Z men who are interested in a career as social fashion influencers. This announcement is a rare opportunity to launch a rising star across all social media platforms. Winners can be Brass Ringleaders, interacting not just with their friends and social channels, but with nationally recognized creative agencies, stylists, and photographers who conduct award-winning campaigns.
It's easy to get started too. We have all of the assets for publication and media awareness on our website. Potential Brass Ring candidates can visit chuckbrass.com beginning August 1, and apply there for the chance to share with the world all the buzz about Chuck Brass clothes.
Here's what we want potential Brass Ringleaders to know:

The Chuck Brass brand is igniting worldwide, and you can be part of the explosion as a Brass Ringleader. Chuck wants you to show him how you grab The Brass Ring, where you are - having the best time while looking awesome.
Brass Ringleaders have a direct channel to the company. That means involvement in new product launches, and giving feedback that shows from the ground up what customers want. Our national consultants will sign lucky Brass candidates by several criteria described on the website and winners selected by September 31st, 2020.
Winners will consult with Chuck Brass marketing teams across the nation who work one-on-one with influencers who will receive free merch and apparel. Our creative teams will coordinate with each Brass Ringleader to build personal brands along with Chuck Brass clothes, and the flavor of a Brass-clad life. Your brand. Your movement.
Aspiring Ringleaders can apply at https://www.chuckbrass.com/pages/the-brass-ring.
If you are interested in an interview about the brand and the Brass Ringleaders, please reach out to the contact listed below.
Chuck Brass
954 Lexington Ave #2014,
New York NY 10021
http://www.chuckbrass.com
(214) 991-0408