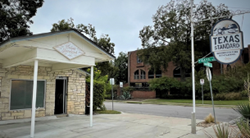 AUSTIN, Texas (PRWEB) October 29, 2020
Quality men's apparel brand Texas Standard announced today its first ever retail store opening, located in the Hyde Park area of Austin, Texas, which also contains its corporate offices.
Texas Standard is a men's premium clothing brand designed and developed in Texas, known as the "Outfitters of the Texas Gentleman." It offers a wide range of menswear products, including button- down shirts, polos, tees, gameday gear, accessories, and its newest additions, the Tejas Guayabera and Modern Western Shirts. While the brand is offered through dozens of retail partners throughout the state and beyond, the opening of the retail store marks its first company-branded experience.
"We are excited to connect with our customers face to face," said Texas Standard co-founders Christine and Drew Bagot, "this new space will give us the opportunity to show Austin and the rest of the state what we're building on a personal level."
We manufacture most of our garments in Texas, and we give 10% percent back of all of our profits to Texas-based charities so we're proud to help support our neighbors in this trying year."
Safety-minded COVID-19 protocols will be in place, with employees and customers adhering to a mandatory face covering policy. In addition to free Texas beers and refreshments for customers, hand sanitizer and contactless payment will be available. Shoppers in the Austin store will have the opportunity to try on their favorite Texas Standard items, as well as receive exclusive discounts, promotions, and free gear with purchases.
Texas Standard was founded with a quality-first mindset, driven by the belief that Texans deserve clothing that represents who they are and where they're from. The brand offers a full selection of clothing and accessories for men that feature the signature barbed wire icon. Ten percent of the company's profits are donated to Texas-focused charities as part of its Ten for Texas initiative to give back to communities around the state.
To download high resolution images, please click here.
ABOUT TEXAS STANDARD
Texas Standard is a men's apparel brand founded with a simple mission: to stand apart as the premium clothing brand Texans can call their own and make the Lone Star State a better place while doing so. Despite being a region of its own in many ways, Texas was without a brand of its own, and Texas Standard was built to change that. With a quality-first mindset on a mission to design, develop, and distribute its products right here in the Lone Star State, the company opened its doors in 2016 with team members in Austin, Dallas, and Houston, and has manufacturing and retail partners across the state and beyond. Texas Standard is also a company with a larger reason for being - directly giving back 10% of profits to Texas communities through charity partners. For more information, visit http://www.Texas-Standard.com, and or follow Texas Standard on Facebook and Instagram at @txstandard.