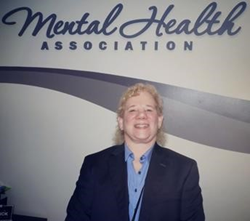 "Bringing her on board brings MHA closer to achieving our mission of preparing resilient children, serving vulnerable families and facing crises together." - Ellie Bentz, LCSW-C, Mental Heath Association of Frederick County Clinical Director
FREDERICK, Md. (PRWEB) August 17, 2018
The Mental Health Association of Frederick County, Maryland (MHA) is pleased to welcome Psychiatrist Lynn Feldman, D.O. to the Counseling Services staff.
Dr. Feldman is a board-certified psychiatrist who completed her General Psychiatry Residency at Sheppard Pratt followed by a Fellowship in Child and Adolescent Psychiatry at Sheppard Pratt and University of Maryland. She also recently passed the Addiction Medicine Boards. Dr. Feldman had been serving as the medical director of the community mental health center in Calvert County prior to relocating to Frederick. While there, she created a substance use program including the use of Buprenorphine. She has also worked in Alexandria, VA serving clients in need of Medication Assisted Treatment and meeting psychiatric needs of clinic clientele of all ages.
Clinical Director Ellie Bentz, LCSW-C says she is very pleased to have Dr. Feldman join our team. "Dr. Feldman allows MHA to better serve Frederick where there has historically been a shortage of psychiatric availability. Bringing her on board brings MHA closer to achieving our mission of preparing resilient children, serving vulnerable families and facing crises together," says Bentz.
To make an appointment with Dr. Feldman, clients will need to consult with a MHA therapist first. Appointments are being scheduled starting October 6th and can be made by calling 301-663-6135. Dr. Feldman will accept Medicaid and Medicare and some sliding scale clients (determined by family size and household income). While private, commercial insurance is not accepted, clients can be seen on sliding scale.
The Mental Health Association of Frederick County has served the community as a private, non-profit organization since 1965. MHA strives to build a strong foundation of emotional wellness for our whole community by preparing resilient children, securing vulnerable families and standing with people to face crises together. For additional information, please visit http://www.fcmha.org or call 301-663-0011.