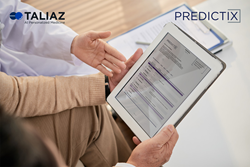 The funds will support our mission to improve patient wellbeing and reduce associated costs by ensuring every patient gets the right mental health treatment, the first time." Dekel Taliaz, CEO & Co-founder of Taliaz
TEL AVIV, Israel (PRWEB) November 10, 2020
Taliaz, a mental health startup harnessing artificial intelligence (AI) to revolutionise mental health treatment and management, today announced that it was awarded $2.7 million in funding from the European Union (EU) Horizon 2020 program. The grant will support clinical research expansion and the ongoing development of PREDICTIX, Taliaz's pioneering decision-support and management platform for mental health. The research will focus on further validating the efficacy of the PREDICTIX platform in depression in multiple EU countries.
Today, more than 84 million people suffer from mental health disorders in Europe, with mental health conditions accounting for about 13% of the global burden of disease. Yet, in the field of depression, the right antidepressant is only prescribed in 49% of cases. This can lead patients to suffer up to 6-18 months of pain and suffering trialing different treatments.
Taliaz's CE-registered product, PREDICTIX, harnesses AI to empower psychiatrists and general practitioners' treatment decisions and can improve today's prescribing accuracy by 47%*.
The PREDICTIX technology uses AI to help doctors overcome current challenges in treating complex and multifaceted mental health conditions. Their successful treatment depends on understanding the relationships between patients' genetic, metabolic, demographic and clinical information. By combining data science and machine learning with deep clinical and biological scientific research, the PREDICTIX mental health platform translates these thousands of data combinations into an easy-to-use assessment and management software to empower prescribing decisions for a faster patient recovery.
Dekel Taliaz, CEO and Co-founder of Taliaz said, "We are excited to receive the prestigious Horizon 2020 grant. The funding from the European Commission endorses the strong science behind our approach. This is especially important as mental health rises across the globe during the COVID-19 pandemic. The funds will support our mission to improve patient wellbeing and reduce associated costs by ensuring every patient gets the right mental health treatment, the first time."
Taliaz is currently in the process of raising a further round of investment to accelerate and expand commercial efforts with health care systems, payors, providers, DNA laboratories and telemedicine providers globally.
*Based on a retrospective analysis of STAR*D study medications versus current clinician treatment selection prescribing accuracy (Chekroud et al., 2016). STAR*D is one of the world's largest prospective studies for optimal antidepressant administration.
About Taliaz
Taliaz is revolutionizing the treatment and management of mental health disorders with PREDICTIX. PREDICTIX is a CE-registered product that provides an advanced decision support software for psychiatrists and general practitioners. Harnessing artificial intelligence, PREDICTIX can enable easy, effective and rapid patient assessment, improved prescribing precision and management for a wide range of mental health conditions. Starting in the field of depression, the PREDICTIX Genetics and PREDICTIX Digital products can improve today's prescribing accuracy by up to 47%*. Learn more at predictix.ai.