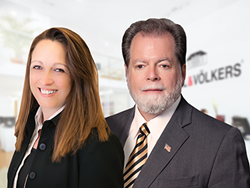 We see no limit to the goals we can set for ourselves with this new global partnership at Engel & Völkers
JACKSONVILLE, Fla. (PRWEB) October 14, 2019
Engel & Völkers announced today that former Watson Realty Corp. team, Menton and Ballou Group has joined its Jacksonville real estate brokerage, bringing over 40 years of industry experience to serve the St. Johns and Duval County markets. The team of eleven is led by Elizabeth "Lisa" Cahill-Menton and George L Ballou, II.This is their first move to another brokerage after maintaining their ranking of No. 1 Producing Team at Watson for several years.
"The Menton and Ballou Group is a perfect fit for our growing culture at Engel & Völkers Jacksonville," said Corey Hasting, License Partner and Broker of Engel & Völkers Jacksonville. "Our existing team is comprised of local industry professionals, and the Menton and Ballou Group is no exception. We couldn't be more excited for their entire team to join us and are excited to watch them take the next step in growing their business."
The Menton and Ballou Group, which formed over five years ago, is comprised of Menton, Ballou, Jamie Ballou, David Kenyon, John McClure, Melissa Naldzin, Jody Steele, Stella Alexander, Alexis McDaniel, Lesley Barlow, and Susan Deering.
Prior to her career in real estate, Menton worked in the Financial Services industry in Canada for over 15 years. After relocating to St. Augustine, Menton joined Watson Realty Corp. where she eventually became a top-producer. She was the first in her office to achieve over $10,000,000.00 in closed volume during a year of intense volatility in her real estate market.
Ballou has been involved in the real estate industry for over 35 years. What began in Cincinnati, Ohio as a way of personal investment, eventually led him to become a broker in Ohio, Maine and Vermont. For the past 10 years, Ballou has specialized in the St. Johns and Duval County markets.
"We began to look to the future and wondered what other companies' business models spoke to us," said Menton. "After speaking with Corey about how Engel & Völkers marketing strategies, impressive technical offerings and global position could help us evolve to the next level of customer service and transactional volume, we knew there was only one choice for us."
The Menton and Ballou Group closed a personal record high of over $45,000,000 in 2018, and is on track to break another record with close to $50,000,000 in sales in 2019.
"We see no limit to the goals we can set for ourselves with this new global partnership at Engel & Völkers," said Ballou. "This is exactly what we have been looking for."
Press contact:
Linzee Werkmeister, Director, Public Relations & Franchise Support
Email: Linzee.Werkmeister(at)evrealestate.com
Tel: (239) 348-9000
About Engel & Völkers:
Engel & Völkers is a global luxury real estate brand. Founded in Hamburg, Germany in 1977, Engel & Völkers draws on its rich European history to deliver a fresh approach to luxury real estate in the Americas with a focus on creating a bespoke, white-glove concierge client experience at every stage of the home buying or selling process for today's savvy homeowner. Engel & Völkers currently operates approximately 175 shop locations with more than 3,000 real estate advisors in the Americas, contributing to the brand's global network of over 11,000 real estate professionals in more than 30 countries, offering both private and institutional clients a professionally tailored range of luxury services, including real estate, yachting and aviation. Committed to exceptional service, Engel & Völkers supports its advisors with an array of premium quality business services; marketing programs and platforms; as well as access to its global network of real estate professionals, property listings and market data. Each brokerage is independently owned and operated. For more information, visit evrealestate.com.
About Engel & Völkers Florida:
Engel & Völkers Florida is the Master License Partner of the global luxury real estate brand Engel & Völkers in the state of Florida. Recognized for uniquely recruiting, training and equipping some of the top professionals in the real estate industry, Engel & Völkers Florida's exclusive franchise model positions its license partners at the top of the premium market to gain market share and support their bottom line. The company represents franchise locations in: 30A Beaches, Belleair, Boca Raton, Bonita Springs-Estero, Cape Coral, Clermont, Delray Beach, Destin, Fort Lauderdale, Fort Myers Downtown, Jacksonville, Jacksonville Beach, Jupiter, Madeira Beach, Marco Island, Melbourne Downtown, Melbourne Central, Miami-Coral Gables, Olde Naples, Orlando-Winter Park, Palm Beach, South Tampa, St. Pete, Stuart, Wellington, and Windermere.
Engel & Völkers Florida is continuing to strategically strengthen and expand its presence in premium real estate markets across the state of Florida. If you would like to know more about the Engel & Völkers brand or how to join its global network, which is known for demonstrating competence, exclusivity and passion, feel free to call our corporate office, located at 633 Tamiami Trl N, Suite 201, Naples, FL 34102 USA. Tel: +1 239-348-9000.
For more information about franchise opportunities with Engel & Völkers Florida, please visit http://www.evfranchise.com