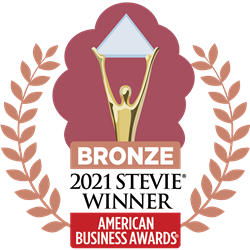 This is a great way to train and save users' lives. eDriving is doing a great job, balancing the business model and helping others on the road.
CAPE MAY, N.J. (PRWEB) May 04, 2021
The American Business Awards are the U.S.A.'s premier business awards program. All organizations operating in the U.S.A. are eligible to submit nominations – public and private, for-profit and non-profit, large and small.
Nicknamed the Stevies for the Greek word meaning "crowned," the awards will be virtually presented to winners during a live event on Wednesday, June 30.
More than 3,800 nominations – a record number – from organizations of all sizes and in virtually every industry were submitted this year for consideration in a wide range of categories. eDriving was selected in the Big Data Solution category for its comprehensive driver risk management program, Mentor by eDriving. Over the past two years, Mentor was awarded two American and two International Stevies in the Governance, Risk, & Compliance Solution category.
Mentor is a smartphone-based digital driver safety program that uses the telematic sensors in iOS and Android smartphones to collect and analyze data on the driving behaviors most predictive of risk. These include Acceleration, Braking, Cornering, Speeding, and Phone Distraction, one of the biggest threats to road safety today. Driver on-road performance is converted into an individual FICO® Safe Driving Score, which has been validated to predict the likelihood of a driver being involved in a collision.
The FICO® Safe Driving Score is combined with drivers' incident, collision, risk assessment, and license violation data to help organizations identify their most at-risk drivers – as well as their safest, collision-, incident-, and injury-free drivers. Engaging, in-app training modules are automatically provided to drivers, and additional coaching invitations are generated for the driver and their manager to meet – virtually or in-person – based on trigger events and/or score thresholds. The Manager Coaching Toolkit provides templates to help managers coach their at-risk drivers to safer behavior behind the wheel, with unique formats for monthly, annual, and post-collision sessions.
As with all eDriving programs and tools, Mentor operates within a highly secure, privacy-first environment, in which only driver data required for risk management is shared with the manager, that is, only the 7-day rolling average FICO® Safe Driving Score® and driver events (Acceleration, Braking, Cornering, Phone Distraction and Speeding). No location data or individual trip data is visible beyond the driver.
More than 250 professionals worldwide participated in the judging process to select this year's Stevie Award winners. Judges' comments about Mentor included:

Overall a good and innovative solution to a time-tested problem.
This is a great way to train and save users' lives. eDriving is doing a great job, balancing the business model and helping others on the road. Good luck.
Unique problem to be solved, strong results so far.
Good leverage of big data for driver safety program.
FICO® Safe Driving Score is a great thought and certainly helps improve driving behaviors, especially if this is recognized by the insurance companies and offer incentives/discounts for clients with high FICO driving score.
"We're extremely proud to have previously won two American Business Awards and two International Business Awards in the Governance, Risk & Compliance Solution category for Mentor, and delighted to have now been recognized in the Big Data Solution category in these latest awards," said Ed Dubens, Founder/CEO of eDriving. "Accurate, comprehensive data insights are critical in driver risk management to enable organizations to measure risk and focus on the 20% of drivers who are typically responsible for 80% of the organization's risk, insurance and liability costs."
Stevie Awards President Maggie Gallagher commented: "The American economy continues to show its resilience, and as we're poised on the beginning of what should be a phenomenal period of growth, we celebrate the remarkable achievements of a wide range of organizations and people over the past 18 months. This year's Stevie-winning nominations in The American Business Awards are testament to the ingenuity, the commitment, the passion, the adaptability, and the creativity of the American people. We look forward to celebrating this year's winners during our virtual ceremony on June 30."
Details about The American Business Awards and the list of 2021 Stevie winners are available at http://www.StevieAwards.com/ABA.
About eDriving
eDriving revolutionized driver risk management with the introduction of the world's first defensive driving CD-ROM in the 1990s. Today, eDriving helps organizations around the world to reduce incidents, collisions, injuries, license violations, carbon emissions, and total cost of fleet ownership through its patented digital driver risk management programs.
At its heart is the Mentor by eDrivingSM smartphone app that identifies risky driving behaviors for intervention and safe driving habits for recognition. In-app features include micro-training and coaching, gamification, collision reporting, vehicle inspections, and an individual FICO® Safe Driving Score validated to predict the likelihood of being involved in a collision. Through our five-stage, Crash-Free Culture® risk reduction methodology, eDriving helps organizations embrace safety as a strategic imperative and build a company-wide culture of safety. Our Virtual Risk Manager® platform integrates and analyzes on-road driver performance data within a privacy-first, data-secure environment that supports drivers and their managers every step of the way.
eDriving is the digital driver risk management partner of choice for many of the world's largest organizations, supporting over 1,000,000 drivers in 125 countries. Over the past 25 years, eDriving's research-validated programs have been recognized with over 100 awards around the world.
Visit http://www.edriving.com
About the Stevie Awards
Stevie Awards are conferred in eight programs: the Asia-Pacific Stevie Awards, the German Stevie Awards, the Middle East & North Africa Stevie Awards, The American Business Awards®, The International Business Awards®, the Stevie Awards for Women in Business, the Stevie Awards for Great Employers, and the Stevie Awards for Sales & Customer Service. The Stevies also produce the annual Women|Future Conference. Stevie Awards competitions receive more than 12,000 entries each year from organizations in more than 70 nations. Honoring organizations of all types and sizes and the people behind them, the Stevies recognize outstanding performances in the workplace worldwide. Learn more about the Stevie Awards at http://www.StevieAwards.com.
Sponsors of The 2021 American Business Awards include John Hancock Financial Services, Melissa Sones Consulting, and SoftPro.