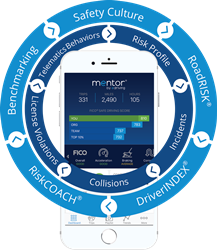 Mentor is a smartphone-based solution that collects and analyzes driver behaviors most predictive of crash risk
CAPE MAY, N.J. (PRWEB) May 19, 2020
The American Business Awards are the U.S.A.'s premier business awards program. All organizations operating in the U.S.A. are eligible to submit nominations – public and private, for-profit and non-profit, large and small.
Nicknamed the Stevies for the Greek word meaning "crowned," the awards will be virtually presented to winners during a live event on Wednesday, August 5.
More than 3,600 nominations from organizations of all sizes and in virtually every industry were submitted this year for consideration in a wide range of categories. eDriving was nominated in the Governance, Risk & Compliance Solution category for its comprehensive driver risk management program, Mentor by eDriving.
Mentor is a smartphone-based solution that collects and analyzes driver behaviors most predictive of crash risk and helps remediate risky behavior by providing engaging, interactive micro-training modules delivered directly to the driver in the smartphone app. As part of a broader risk management platform, Virtual Risk Manager®, eDriving provides organizations with everything they need to establish safety as a strategic imperative, and support drivers and managers as they strive to create a crash-free culture®.
Powered by the FICO® Safe Driving Score, Mentor empowers "good" drivers to prove their low-risk profile, and "high-risk" drivers to understand their risk exposures, how those factors affect their safety and what they can do to manage, control and mitigate their risk of crashes, thereby improving their driving and ultimately ensuring their safe return to their loved ones at the end of each day.
More than 230 professionals worldwide participated in the judging process to select this year's Stevie Award winners. Judges' comments about Mentor included:
-Great innovative solution with practical applications already available, and potential for more.
-This will be a great tool to make driving safer having increased use of cell phones while driving causing accidents.
-Good product to reduce accidents in their workforce.
-Remarkable presentation; you made claims, backed by data. The need and value are clearly articulated. This is wonderful in many ways.
"Our innovative partnership with FICO®, combined with eDriving's closed-loop risk management approach, enables drivers to benchmark and improve their attitudes and behaviors every time they get behind the wheel," said Ed Dubens, Founder/CEO of eDriving. "Since winning Silver in the American Business Awards in 2019 we have introduced additional features including FNOL (First Notice of Loss) which helps aid the risk and claims management process for organizations after a collision, and Mentor TSP (Telematics Service Partner), which enables fleets with an existing telematics solution to combine Mentor's unique driver risk management suite with the TSP behaviors in one performance management platform. Congratulations to the whole eDriving team for elevating our win to a Gold this year!"
Stevie Awards President Maggie Gallagher commented: "Despite the toughest business conditions in memory, American organizations continue to demonstrate their commitment to innovation, creativity, and bottom-line results. This year's Stevie-winning nominations are full of inspiring stories of persistence, ingenuity, resourcefulness, and compassion. We celebrate all of their stories and look forward to showcasing them during our virtual awards ceremony on August 5."
Details about The American Business Awards and the list of 2020 Stevie winners are available at http://www.StevieAwards.com/ABA.
About eDriving
eDriving helps organizations to reduce collisions, injuries, license violations and total cost of fleet ownership through a patented driver risk management program.
eDriving is the driver risk management partner of choice for many of the world's largest organizations, supporting over 1,000,000 drivers in 96 countries. Over the past 24 years, eDriving's research-validated programs have been recognized with over 90 awards around the world.
For more visit http://www.edriving.com
About the Stevie Awards
Stevie Awards are conferred in eight programs: the Asia-Pacific Stevie Awards, the German Stevie Awards, the Middle East Stevie Awards, The American Business Awards®, The International Business Awards®, the Stevie Awards for Women in Business, the Stevie Awards for Great Employers, and the Stevie Awards for Sales & Customer Service. Stevie Awards competitions receive more than 12,000 entries each year from organizations in more than 70 nations. Honoring organizations of all types and sizes and the people behind them, the Stevies recognize outstanding performances in the workplace worldwide. Learn more about the Stevie Awards at http://www.StevieAwards.com.
Sponsors of The 2020 American Business Awards include John Hancock Financial Services, Melissa Sones Consulting, and SoftPro.