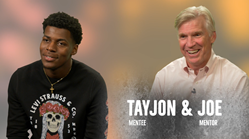 "I am fiercely committed to ensuring that young adults don't leave this system alone and that they have a positive adult role model – a mentor – by their side to help them thrive," states Paul Muratore, founder of Connections Mentoring.
NEW YORK (PRWEB) September 18, 2020
MENTOR New York will host its first-ever virtual Mentor of the Year Awards program on September 24. Award recipients were selected by a volunteer committee comprised of JPMorgan Chase employees from across New York State who recognized the unique and powerful mentoring relationships each winning mentor shared with their mentee. Tribeca resident Joe Fergus, who volunteers with Westchester-based Connections Mentoring, will be honored for his efforts along with four other individuals.
"As New York navigated a global pandemic with physical distancing and a transformation of our daily routines, mentors became the front-line support for young people throughout the state. This year's Mentor of the Year award recipients have impressed us with their dedication to maintain their relationships with their mentees during extraordinary times and lifting up their voices," said Brenda Jimenez, CEO of MENTOR New York. "Each mentor has demonstrated they value the brilliance and uniqueness of their mentee and built a relationship centered on joy."
Joe Fergus, a mentor for Connections Mentoring which operates as a program partner of Children's Village in Dobbs Ferry, was matched with his mentee TJ over three years ago. In that time, Joe and TJ have attended basketball games, shared meals, and worked toward goals together. TJ's next goal is to become a Naval Officer. "Now I know all the steps," said eighteen-year-old TJ. "I know what I need to do: what grades you need to get on the tests; what physical training you need to do to get into the Navy."
Together, they attended the Army-Navy football game, met with recruiters, and toured the United States Naval Academy at Annapolis. As a mentor, Joe has learned it is more than teaching, but also about learning from his mentee. "I learned resilience and how to be stronger from TJ," said mentor Joe Fergus, Managing Director of Marketing for Oaktree Capital Management.
Over the past several years, TJ has had to move several times, resulting in new schools to attend, and new social workers and caretakers to get used to, a common occurrence for young adults in the child welfare system. This type of disruption and uncertainty is why it is so important for mentors like Joe to provide stability and a consistent adult relationship. Recently TJ asked Joe, "How long will you be my mentor?" to which Joe replied, "As long as you'll have me."
The four additional award winners are Berenice Belizaire mentor for Bigs & Littles NYC Mentoring, Cara Ginsberg mentor for Mentors Giving Voices Across North Babylon, Pat Banhazl mentor for Baldwin School District Mentoring Program, and Erwin Howard mentor for Chautauqua Striders.
About Connections Mentoring
The mission of Connections is to work in partnership with youth, families, organizations, and volunteers to curate long-lasting, supportive mentoring relationships that improve self-worth for young adults with past, current, or peripheral contact with the child welfare or juvenile justice systems in New York City or Westchester County. First and foremost, mentors build relationships with the youth and provide them with a role model, cheerleader, and advocate. Secondarily, with the support of Connections, mentors help youth to achieve their personal goals such as stable housing, education, or employment. Youth in the program are between the ages of 15 and 25 and live in the five boroughs and Westchester County.
Paul Muratore founded Connections in 2016 after working as a mentor at Children's Village for over 30 years. Muratore's deep passion for helping to ensure that no child feels worthless as they age within the child welfare system, is what drove him to do more. "I am fiercely committed to ensuring that young adults don't leave this system alone and that they have a positive adult role model – a mentor – by their side to help them thrive," states Muratore. "Connections is a relationship, not a program. It is a meaningful personal connection, not a service. It is about being alongside a young person who would otherwise be going it alone. Connections is about helping teenagers navigate the many ups and downs they face, so they can transition into young adults who become successful members of our community."
For more information about Connections, including becoming a mentor or a donor, visit https://connectionsmentor.org/
About the 2020 Mentor of the Year Awards
The first-ever virtual 2020 Mentor of the Year Awards presented by JPMorgan Chase is an opportunity for new and old friends to support MENTOR New York in providing services that are needed, now more than ever, to mentoring programs, youth development organizations and schools during the global pandemic and amid racial injustice. The event will recognize five outstanding mentors, celebrate the accomplishments of 2020, honor the vibrant life of Luke Boisi and celebrate Jean Lahage Cohen for her 25 years of service to the organization. Corporate event sponsors include presenting sponsor JPMorgan Chase and gold-level sponsors: Bethpage Federal Credit Union, Apogee Coaching and Consulting Strategies LLC, People's United Bank, PSEG Long Island and KeyBank in partnership with First Niagara Foundation. Learn more about the event.
About MENTOR New York
For over 25 years, MENTOR New York has been the go-to resource for building sustainable and mutually beneficial mentoring programs. MENTOR New York partners with nearly 850 mentoring programs that serve approximately 80,000 young people throughout the state. MENTOR NY is an Affiliate of MENTOR: The National Mentoring Partnership, the national nonprofit unifying and elevating the mentoring movement. For more information about mentoring programs and initiatives, visit https://www.mentornewyork.org.
# # #