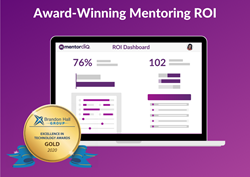 MentorcliQ's ROI Dashboard enables clients to easily see their mentoring ROI & helps companies realize up to a 75% increase in employee retention.
COLUMBUS, Ohio (PRWEB) January 19, 2021
MentorcliQ, the leader in employee mentoring software, wins a Brandon Hall Group gold award for its newest feature, a return on investment (ROI) dashboard. The gold award is part of the Brandon Hall Group Excellence in Technology awards for the Best Advance in Online Mentoring Tools. This marks MentorcliQ's fourth Brandon Hall Group award in the last 12 months. The Brandon Hall excellence awards recognize the best organizations that successfully deploy programs, strategies, systems, and tools that have achieved measurable results.
Winning this Brandon Hall technology award recognizes MentorcliQ's achievement in providing a best in class mentoring solution that shows measurable return on investment (ROI) for clients. Mentoring is known for boosting employee engagement and retention. Employees who are engaged in mentoring and have the opportunity to develop in their careers are more likely to feel connected to the company mission and take positive actions that increase productivity and company profitability.
The ability to measure ROI enables leaders to understand the financial impact of the mentoring initiatives within their organization. As a result, senior leaders now consider mentoring critical for the future of work, with many Fortune 500 executives advancing employee retention efforts by participating in and sponsoring mentoring programs. This shift is reflected in MentorcliQ's recently released 2021 mentoring trends which documents the evolution of mentoring initiatives within enterprises that drive mentoring programs globally.
The addition of the interactive ROI Dashboard to MentorcliQ's suite of reporting features enables clients to easily see and realize their ROI as a result of mentoring their employees. MentorcliQ helps companies realize benefits like up to a 75% increase in employee retention.
"We are honored to have won this award recognizing MentorcliQ's innovation in the employee mentoring software industry. We are energized by helping clients achieve success in their employee development programs and providing them with the tools and resources to realize the ROI of their efforts." - Phil George, CEO, MentorcliQ.
A panel of veteran, independent senior industry experts and Brandon Hall Group senior analysts and executives evaluated entries based upon the following criteria: product's breakthrough innovation, unique differentiators, value proposition, and measurable results.
"Winners of Excellence in Technology Awards are critical drivers of their organizations' success, especially in these disruptive times. Their solutions resulted in substantial benefit to their business and the human capital management function. That is the ultimate differentiator: the positive business impact of technology." - Brandon Hall Group Chief Operating Officer and awards program head Rachel Cooke.
About MentorcliQ
MentorcliQ is the leader in employee mentoring software. MentorcliQ drives employee retention for clients by using mentoring to help employees excel at their company and in their career. Virtual by design, MentorcliQ is proudly improving the workplace for over 3 million employees in over 150 countries worldwide. Everyday more Fortune 500 and DiversityInc Top 50 organizations rely on MentorcliQ to power a comprehensive employee development strategy through mentoring. For more information on MentorcliQ, please visit: http://www.mentorcliq.com.
About Brandon Hall Group
Brandon Hall Group is the only professional development company that offers data, research, insights and certification to Learning and Talent executives and organizations. The best minds in human capital management (HCM) choose Brandon Hall Group to help them create future proof employee development plans for the new era. For the last 27 years, we empowered, recognized and certified excellence in organizations around the world, influencing the development of over 10,000,000 employees and executives. Our HCM Excellence Awards was the first to recognize organizations for learning and talent and is the gold standard, known as the 'Academy Awards of Human Capital Management'. To learn more, visit http://www.brandonhall.com.