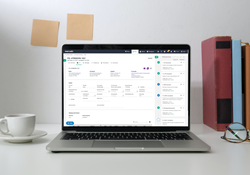 DALLAS (PRWEB) April 20, 2021
Home organization product wholesaler Whitmor has evolved its digital supply chain with the implementation of Mercado Labs.
The Whitmor brand has become a household name around the world, renowned for its quality home organization, storage, and laundry accessory products. Built on a mission to simplify life for consumers and make everyday tasks quicker and easier, the business has experienced significant growth in recent years thanks to its customer-centric focus, whether that be their retail partners or the end-consumers who utilize their products.
The implementation of Mercado's product is set to evolve the way the international importer manages the sourcing, production, and shipment of its products suite — ultimately launching Whitmor into a new digital era with emphasis on the first mile of the supply chain.
Whitmor had multiple end goals in optimizing its digital supply network, including:

Connecting their sourcing, purchasing, and logistics teams — including internal, partners, and suppliers — to provide better communication across their supply chain
Gaining visibility across their entire supply chain, from first mile to final mile
Keeping up-to-date with the entire production journey, including the moment a Purchase Order is entered into Mercado, supplier approvals, ship dates, port arrival, and every step in between
Whitmor is utilizing the Mercado Buy and Mercado Move products in their journey to evolve their supply chain.
Mercado Buy equips Whitmor's buyers and purchasing teams with a digital order, workflow, and automation. Giving Whitmor complete control over the outcome of their imports by ensuring suppliers produce and deliver products to the exact specifications outlined in the Purchase Order.
Mercado Move powers Whitmor's logistics function within the business, helping to plan and manage shipments based on exact specifications available from the agreed digital order. With tools built into the order itself, teams across the business can connect more effectively and share and report information with ease.
Discover more about how Mercado's digital supply network helps businesses to transform their supply chains and improve time to market, increase sales, and reduce expenses by visiting mercadolabs.com/transform.