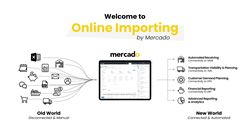 "The days of supply chain uncertainty and complexity are gone."
DALLAS (PRWEB) August 10, 2021
Mercado Labs is transforming the future of supply chain technology by introducing the world's first online importing platform, designed by importers for importers.
Mercado's import Order Management System (iOMS) automates and connects the entire import supply chain to create a fully online experience from purchase to sale.
It is now possible for importers to experience networked communication, connectivity, workflow, and automation throughout the supply chain.
"Imported products are ubiquitous in our everyday lives," Mercado CEO Rob Garrison said. "We are living in an age where I can order those products online and have them in my hands the same day...yet that very same product took at least 6 months to arrive at a distribution center. It's a huge disconnect, and that's where we decided to step in."
The import supply chain is a lengthy and complicated process – normally lasting six months from planning to receipt with 7 business entities, 8 departments, 30 people and other factors involved throughout the entire process. Yet most importers still manage their import supply chains offline - with email and Excel.
Mercado is designed to make it as easy for importers to order products as it is for their customers to order from them.
Mercado connects the end-to-end supply chain to create a digital supply chain network — laying the foundation for ESG, advanced analytics, and resilience.
This is achievable through the Mercado Method (TMM), a proven and systemic methodology for applying automation at critical inflection points along the supply chain. Ultimately improving time-to-market, reducing unforeseen costs, and increasing sales.
"Imagine not having to worry about a product's outcome because you're able to follow its journey every step of the way or never having to dig through thousands of emails to find a single piece of a conversation with a supplier," Garrison said. "The days of supply chain uncertainty and complexity are gone."
The Mercado Method consists of 10 steps that cover Online Ordering, Change Control, Production Monitoring, Documents, Purchasing to Logistics, Invoicing, Payment, Clearance, Receiving, and Analytics. By covering each of these 10 crucial inflection points throughout a product's journey, importers can ensure their entire supply chain process is tracked and logged against their suppliers, records, data, and more.
Say goodbye to the old ways of supply chain operations, and say hello to an interconnected supply chain network linking your products with your customer demand. As the world's first online importing platform, Mercado Labs' mission is to make importing more efficient and equitable while also creating a more sustainable world by improving conditions for people and the planet.
For more information on online importing and The Mercado Method, visit mercadolabs.com/online-importing.
For more information, spokespeople, pictures, and interviews relating to this announcement, please contact Mercado: Kayleigh Hansen, Marketing Specialist / kayleighhansen@mercadolabs.com or visit our LinkedIn page here.