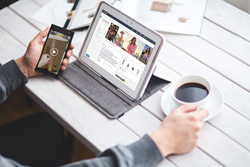 DALLAS (PRWEB) January 10, 2020
Mercado Labs announces a digital trading platform to transform the global supply chain.
The global supply chain is broken. Collaboration is limited, there is a lack of transparency, and outcomes are unpredictable.
The first 120 days of an order — the "first mile" — are critical to ensuring what importers order is what they receive. Any delays, discrepancies, damages, and defects during this period have negative impacts on profits and sales. By the time you've found them however, it's often too late.
"The first mile of the supply chain is highly complex," Mercado CEO Rob Garrison said. "It involves dozens of companies, departments, and individuals across geographic, cultural, and governmental barriers. Right now, this complexity is being managed via spreadsheets and email. From order placement to order delivered, the first mile is in desperate need of a transformation, and that's where Mercado comes in."
Mercado solves these challenges with a user friendly and affordable SaaS platform. Mercado connects all parties, automates manual processes, and provides transformative products, solutions, and features - such as online ordering and native language translation.
Mercado's visibility, transparency, and collaboration tools create the reliability necessary for cost-reductions and improvements in sales.
"We bring transparency to the entire global supply chain by shining a bright light into dark corners," Garrison said. "From production delays, to product quality issues, to social compliance, businesses can finally achieve the predictable and transparent outcomes they need to run a successful business."
Mercado's two key products are Mercado Buy and Mercado Move. Mercado Buy provides complete transparency, collaboration, and predictability over your orders, suppliers, products, and production process. Mercado Move provides complete visibility of your order, supplier, product, and logistics process.
Mercado Plan is an upcoming third product that allows you to efficiently manage the vendor vetting, quoting, selection, approval and onboarding processes, and it is scheduled on our product roadmap to launch later this year. Each product focuses on a different stage of the supply chain, helping to bring greater transparency, collaboration, and predictability for importers around the world.
"We have applied modern technology to a very inefficient and antiquated business," Garrison said. "The results are remarkable, creating efficiencies and savings throughout the global supply chain."
Discover how Mercado Labs can transform your supply chain. Visit: http://www.mercadolabs.com.
For more information, spokespeople, pictures and interviews relating to this press release, please contact: Mercado: Kayleigh Hansen, Marketing Specialist / kayleighhansen@mercadolabs.com or reach out via LinkedIn at http://www.linkedin.com/company/mercadolabs/