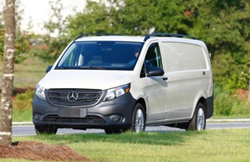 PEORIA, Ariz. (PRWEB) April 27, 2021
Mercedes-Benz Arrowhead Sprinter, a Peoria dealership, is offering a discount on Metris Van B-Services this week. Mercedes-Benz Metris Vans are commercial vans available at the dealership, along with Mercedes-Benz Sprinter Vans. B-Services are part of the recommended maintenance schedule for Mercedes-Benz Metris Vans. A B-Service maintenance appointment is recommended at the 10,000-mile mark and at regular intervals throughout the van's lifespan.
A Metris B-Service appointment includes an inspection of the van's safety systems, brakes, belts and hoses, tires, fluid leaks, exhaust components, diesel fluid for diesel vans, indicator lamps, headlamps, suspensions, axles, covers, sleeves and more. Along with the multi-point inspection, vans will receive a synthetic oil change, a reset for the service calculator, fluid top-offs, tire pressure adjustment, trailer tow hitch lubrication, a tire rotation, a new fuel filter for diesel models and new brake fluid.
This week drivers can receive a $50 discount off a Metris B-Service with an online coupon. Drivers can find the online coupon at the dealership's website, arrowheadmbsprinter.com, along with other temporary service coupons and special offers. The coupon must be presented at the time of service for the discount to apply. It is not valid with other offers. The coupon expires on May 4, 2021.
Drivers who need a Metris Service-B appointment are encouraged to make an appointment this week with the dealership. Appointments can be made via phone, online or in person. The phone number of the dealership's service department is 623 806-8766.