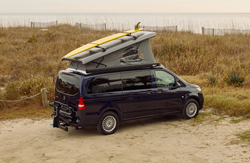 PEORIA, Ariz. (PRWEB) March 08, 2021
Mercedes-Benz Arrowhead Sprinter, a Mercedes-Benz dealership specializing in commercial vans, is offering drivers a Metris Service A special in March 2021. This temporary offer is available now and expires on April 6th, 2021. This gives drivers under one month to take advantage of this offer and get a thorough vehicle inspection at a special rate.
A Metris Service A is a recommended service appointment for Mercedes-Benz Metris vans. This service bundle comes with a multi-point vehicle inspection, an engine oil service, a brake test and a service computer reset. The engine oil service includes an engine oil change and a filter replacement. The inspection is given by a professional technician familiar with commercial vans who will look at the vehicle's exterior body panels, windshield, seat belts, seat belt buckles, seat belt buckle extensions, brake pads and brake disks. When checking the exterior, the technician will look for corrosion, accident damage and paint damage, while the windshield will be checked for stone impacts and damage. Brake pads and disks will be checked for wear and a replacement will be recommended as needed.
Drivers of Mercedes-Benz Metris vans are encouraged to visit Mercedes-Benz Arrowhead Sprinter or to learn more online at the dealership's website, arrowheadmbsprinter.com. Drivers are encouraged to keep track of the Mercedes-Benz recommendations for maintenance and to take advantage of this offer if their Metris Service A recommendation is due or close to due. Drivers can schedule a service appointment online on the dealership's website. They can also view contact information, hours and more.