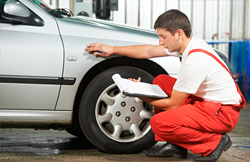 PEORIA, Ariz. (PRWEB) June 11, 2019
Mercedes-Benz Arrowhead Sprinter has monthly service specials to help its customers save money. Currently, it is promoting one of these specials, which gets customers a discount on a Sprinter B-Service maintenance appointment.
Mercedes-Benz Service B appointments include a multi-point inspection, plus an oil change, brake fluid change and tire inflation as needed. Service B appointments are recommended for Mercedes-Benz vehicles every 20,000 miles or two years of ownership, whichever comes first. With the coupon offered by Mercedes-Benz Arrowhead Sprinter, customers can receive a $100 discount off their next Service B appointment this month. The coupon is valid through June 30, 2019.
Customers can find the coupons on the dealership's website, arrowheadmbsprinter.com on the Service Specials page under the Specials drop-down menu. Customers should print off a coupon and bring it into their scheduled appointment. To schedule an appointment, drivers can use the online form on the dealership's website by clicking Schedule Appointment under the Parts & Services drop-down menu.
To learn more about Service B appointments, customers may contact the dealership's service team. They can be reached by phone at (623) 806-8766 or in person during business hours at the dealership.
*Services and pricing for Service A/Service B may vary due to your driving habits, mileage, and local environmental conditions. Please refer to your maintenance booklet for additional details and general guidelines for your vehicle's year and model.
*Service A/Service B is pre-determined and outlined in your pre-paid maintenance contract. Additional maintenance may be required according to your driving habits, mileage and local environmental