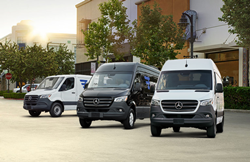 PEORIA, Ariz. (PRWEB) November 05, 2019
For mobile businesses, investing in the right company vehicles is a crucial decision. One factor is price, which can make or break a company's budget. Mercedes-Benz Arrowhead Sprinter is currently promoting its November fleet offers on new Mercedes-Benz vans to businesses in the Phoenix area.
Mercedes-Benz Arrowhead Sprinter is currently offering a 3.99% APR for new Mercedes-Benz Metris and Sprinter van fleets. Mercedes-Benz Metris and Sprinter vans comes in several models including passenger vans, crew vans, and cargo vans. Each of these vans can be found at the dealership. Mercedes-Benz passenger vans seat up to 15 passengers. Crew vans seat up to five, with more rear cargo space and cargo vans seat up to two with even more rear cargo space.
The fleet special APR applies to 2018, 2019 and 2020 Mercedes-Benz Metris and Sprinter models. The 3.99% rate will apply for the first 24 to 60 months. In order to be eligible for this offer, drivers must be approved through Mercedes-Benz Financial Services (MBFS). This special rate will only be available for purchases made before December 2, 2019.
Any interested customers looking to learn more can contact the dealership's sales team or visit its website, arrowheadmbsprinter.com. To contact the sales team, customers can email them on the website or call them at (623) 806-8764 or visit them in person at 9260 W Bell Road in Peoria. More information can be found under "National Offers," linked on the "Specials" drop-down menu at the top of the site.