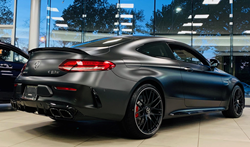 Our new AMG showroom gives the Memphis luxury buyer a whole new way to experience this performance racing line in person
MEMPHIS, Tenn. (PRWEB) November 20, 2019
Mercedes-Benz of Memphis announces their new partnership with the AMG high performance brand with an exclusive showroom dedicated to the exciting and prestigious vehicles.
The dealership, located at 5389 Poplar Ave, invested in the AMG showroom to provide a new luxury experience for the performance and luxury shoppers of Memphis. Customers can see, test drive, purchase and order the AMG racing line at the dealership.
"We saw a need to provide demonstrations and in-person access to this performance line of Mercedes-Benz models. Our new AMG showroom gives the Memphis luxury buyer a whole new way to experience this performance racing line in person. We are really excited about it."
Said Tom Hammond, Sales Manager and 20 year employee with Mercedes-Benz of Memphis
Our partnership with the Mercedes-Benz AMG brand will allow our customers to experience the full line of Mercedes models right here in Memphis.
Mercedes-Benz of Memphis is the original Mercedes-Benz dealership in Memphis. With over 90 employees, the dealership is proud to be a locally-owned, family run business for over 38 years, located at 5389 Poplar Ave.
If you would like more information about the AMG showroom please call Doug Session or Tom Hammond at 855-412-5133.