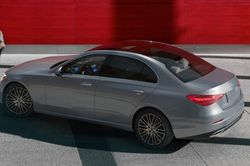 SCOTTSDALE, Ariz. (PRWEB) February 07, 2023
Mercedes-Benz of Scottsdale, a dealership in Scottsdale, AZ, has announced the arrival of the 2023 Mercedes-Benz C-Class C 300. This latest addition to the C-Class lineup combines luxury, style and performance to offer drivers an exceptional driving experience.
The 2023 Mercedes-Benz C 300 Sedan is equipped with cutting-edge technology, premium features and a sleek design, making it one of the most desirable luxury vehicles on the market. From its advanced safety systems to its high-performance engine and inviting interior, this car is the epitome of refinement and comfort.
Its advanced infotainment system features a large touchscreen display, providing drivers easy access to all the features. The premium sound system offers crystal-clear audio quality, perfect for listening to music on the road.
Shoppers can visit Mercedes-Benz of Scottsdale to test drive the 2023 Mercedes-Benz C-Class C 300 Sedan and see why it is one of the most sought-after vehicles on the market. The dealership's knowledgeable sales team can answer any questions and help drivers find the perfect vehicle.
Drivers are encouraged to visit the Mercedes-Benz of Scottsdale dealership located at 4725 North Scottsdale Road, Scottsdale, AZ 85251, for detailed information on the vehicle. They can also contact the dealership at 480-845-0012 for any questions or assistance. Additionally, customers can visit the dealership's website, http://www.mbscottsdale.com, to learn about the Mercedes-Benz deals and vehicle services offered.