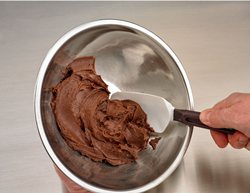 Like all Hell's Tools®, the silicone scrapers and spoon spatulas are extremely durable and meet a multitude of culinary needs.
RONKONKOMA, N.Y. (PRWEB) April 28, 2021
Mercer Culinary® introduces the newest additions to its Hell's Tools® line; silicone blade scrapers and spoon spatulas.
Like all Hell's Tools®, the silicone scrapers and spoon spatulas are extremely durable and meet a multitude of culinary needs. They feature heat-defying characteristics, formulated to withstand temperatures of up to 500°F, providing foodservice professionals with unsurpassed performance at the prep station or stovetop.
The silicone blade scrapers are ideal for scraping batter, preparing omelets, mixing, or spreading icing and come in three sizes, 10", 14", and 16".
The silicone blade spoon spatulas are perfect for transferring batter and other thick liquids as well as mixing and scraping the sides of bowls. They come in 10.3", 14.3", and 16.3" sizes.
These scrapers are all about efficiency, food safety, and added value. Stand out features include:

A specially formulated nylon handle, making them incredibly strong and temperature resistant.
A raised kickstand to keep the blade off work surfaces when not in use
An integral hook on the handle to prevent the scraper from sliding into bowls, pots, and pans.
Flexible silicone blades, which eliminate food waste by creating excellent contact with the sides of pots, pans, and bowls without scratching.
The blades are securely molded to the handles to avoid separation during use and eliminating a food and dirt trap.
NSF Certified
All are dishwasher safe, easy to store, and stain and odor resistant.
"Although these aren't new products to the industry, what makes them stand out from the competition is the unique design which incorporates all the features from other models into one quality product, while offering them at a significantly lower price point. This is a win-win for foodservice professionals", states Joe Flaherty, Senior Vice President.
For more information about Hell's Tools®, visit http://www.mercerculinary.com, call Mercer Culinary at 1-800-221-5202, or email sales@mercerculinary.com.
About Mercer Culinary
Mercer Culinary manufactures and supplies cutlery and accessories for the professional culinary market. Exceptional materials, unique design, and dedicated craftsmanship are the hallmark of Mercer products. Mercer is the predominant supplier to culinary education with a strong presence in commercial foodservice spanning more than 30 years. Quality, performance, value, and service are the focal points for this second-generation family business.
Contact:
Lisa DeMartino
Marketing Communications Manager
Mercer Culinary
1860 Smithtown Avenue
Ronkonkoma, NY 11779
631-865-4718
ldemartino@mercertool.com
http://www.mercerculinary.com