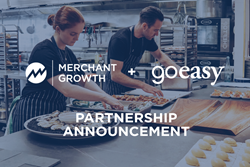 We are thrilled to be combining goeasy's market reach with Merchant Growth's capabilities to bring the most convenient and accessible funding experience to Canadian business owners.
VANCOUVER, British Columbia (PRWEB) December 02, 2019
Merchant Growth, an award winning Canadian fintech has entered into a partnership with goeasy Ltd., a leading provider of financial services for non-prime Canadians, that will enable Canadian small business owners to conveniently and quickly access the working capital they need to grow their businesses. The partnership utilizes Merchant Growth's small business credit adjudication technology and enables easyfinancial branches to offer business loans to the growing small business market in Canada.
Starting today, small business owners in British Columbia, Alberta and Saskatchewan can apply for a small business loan online or at an easyfinancial branch, receive a quote in minutes, and receive funds in just 24 hours. The planned roll-out is to include the rest of Canada during the first quarter of 2020.
"goeasy is a phenomenal Canadian financial services growth story as a result of its customer-focused mission to provide everyday Canadians a path to a better financial future ," says David Gens, President & CEO, Merchant Growth. "goeasy's mission closely aligns with Merchant Growth's, which is to bring the most convenient & accessible financing experience to Canadian business owners, allowing them to unlock the growth potential in their businesses. We are thrilled to be combining goeasy's market reach with our capabilities to deliver on this mission." Under the terms of the arrangement, goeasy Ltd. will receive compensation from Merchant Growth for all lending activity and Merchant Growth will be responsible for funding the loans with their capital and servicing all loans under their current operating model.
About Merchant Growth
Merchant Growth is Canada's fastest and most friendly alternative financier. Our mission is to bring business owners the most convenient and accessible financing experience. Our innovative approach blends thoughtful customer care, complete transparency, and the latest technology to provide fast accessible financing to small businesses in Canada. Basically, we work really hard to make business financing easy to understand, accessible for everyone, and make the whole process quick… really quick. To date, we've served thousands of Canadian small businesses, and originated over $250 million in small business financing. For more information about Merchant Growth, please visit merchantgrowth.com.
For further information:
Lynsey Skramstad – Vice President of Marketing
Merchant Growth
lskramstad@merchantgrowth.com
http://www.merchantgrowth.com
+1-855-234-5622