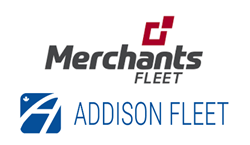 HOOKSETT, N.H. (PRWEB) February 04, 2020
Merchants Fleet, the nation's fastest-growing FleetTech company, and Addison Fleet, a privately-owned Canadian fleet management company, have formed a partnership that will expand their service capabilities to cover both the United States and Canada. The partnership was made with the goal of better serving their growing client bases.
"We are thrilled to announce our partnership with Merchants Fleet. After meeting with their senior leadership team, the parallels between our companies became quite evident," said Brent Addison, President of Addison Fleet. "Both family-owned businesses began from car dealerships that grew into the fleet industry over time. We also have a mutual desire to create a great place to work for our employees, and this is reflected in the way we service and care for our customers, which ultimately drives business results."
"As a FleetTech company that values innovation and creating flexible, customizable client solutions, we are excited to partner with Addison," said Brendan P. Keegan, CEO of Merchants Fleet. "Thanks to the reach this partnership provides, we're able to deliver a market-leading experience for companies that have vehicles across North America."
Under the partnership, each company can offer clients with vehicles in both the United States and Canada a harmonized selection of vehicle products and services. Merchants products and services will cover the United States while Addison Fleet's services will cover Canada, and both companies will work together to satisfy client needs in both countries and consolidate fleet data. The result is cross-border coverage for Addison and Merchants clients, plus access to country expertise and a unified analysis of vehicle data.
"We are delighted to enter into a strategic partnership with Merchants Fleet," said Janice Jucke, SVP, Sales and Client Operations. "Like Addison Fleet, Merchants is not only committed to the development and enhancement of best-in-class technology, but also shares our deep commitment to ensure that mutual clients have access to the most powerful technology, efficient and effective tools, and industry experts to meet the challenges fleets face today."
Both Addison and Merchants are known in their respective countries for offering a high level of client service, flexibility, and innovation in their offerings, which include a comprehensive suite of fleet programs and solutions for businesses that use vehicles as part of their operations. Their programs include maintenance, fuel, telematics, consulting, safety, accident management, leasing, remarketing, mobility solutions, and more.
About Addison Fleet: Addison Fleet is a Canadian family-owned (third-generation) and operated national fleet management company with roots dating back to 1956. We offer Canadian clients multiple comprehensive and customizable fleet management solutions and high touch personalized service coupled with leading-edge technology. Our team is comprised of industry experts who partner with our clients to build a solution that is right for their business and will achieve their fleet and corporate goals.
About Merchants Fleet: Merchants Fleet is the fastest growing fleet management company nationally. Merchants provides clients with the most high-touch service and innovative experience across the industry for fleets, with flexible terms from three months to seven years. Our unique technology platforms coupled with specialized fleet teams provide the most comprehensive FleetTech solutions to drive proven results. Find out more at merchantsfleet.com.
Contact: Amanda Desmarais, Marketing Communications Specialist, 603.836.6419, amandadesmarais@merchantsfleet.com