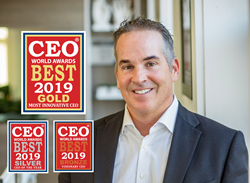 Since Brendan joined our company as CEO, our growth has accelerated and our capacity to give clients the best service in the fleet industry has expanded
HOOKSETT, N.H. (PRWEB) August 08, 2019
Merchants Fleet CEO Brendan P. Keegan has been named the gold winner of Innovator of the Year by CEO World Awards®. He was recognized in their business services, 11 to 2,499 employee category. He also won the silver for CEO of the Year, USA, and the bronze for Visionary CEO of the Year. He was recognized for his innovation, forward-thinking, and his ability to develop people and improve products and services for clients.
"Brendan has made a significant impact on Merchants Fleet's culture during his tenure as CEO," said Gary Singer, Owner & Chairman of the Board. "He has pushed all of us to think and act differently, and as a result the company has increased its ability to respond to the needs of our clients in new and innovative ways. He is truly deserving of the title 'Innovator of the Year.'"
The annual CEO World Awards program encompasses the world's best in leadership, innovation, organizational performance, new products and services, CEO excellence studies, corporate social responsibility, and milestones from every major industry in the world. Organizations from all over the world are eligible to submit nominations including public and private, for-profit and non-profit, largest to smallest and new start-ups. Judges from a broad spectrum of industries from around the world participated and their average scores determined the 2019 award winners.
"Since Brendan joined our company as CEO, our growth has accelerated and our capacity to give clients the best service in the fleet industry has expanded," said Robert Singer, Owner & President of Merchants Fleet. "We're proud that his efforts have been recognized with these awards."
Keegan has been involved with Merchants Fleet since 2009—as a client, board member, and strategic advisor. He is focused on transforming the company's business model and creating a new industry merging fleet with technology. He is a six-time, transformational President & CEO of companies ranging from 500 to over 10,000 employees located in nearly 150 countries in the technology and financial services sectors. He also served as the Fortune 100's youngest Chief Sales Officer for EDS, a $22-billion technology industry leader, has raised nearly $2.0 billion in capital, and driven sales of over $100 billion.
His other awards include being named a Distinguished Fellow by Dartmouth College, a Fast50 Executive by FastCompany, Best-of-the-Best CEOs by Incentive, and 100 Fastest Growing Companies by PriceWaterhouseCoopers. He is also a sought-after speaker at conferences in the financial services and technology industries.
About the CEO World Awards: CEO World Awards are an annual industry and peers recognition program honoring CEOs and organizations of all types and sizes in North America, Europe, Middle-East, Africa, Asia-Pacific, and Latin-America. The Annual CEO World Awards is part of the SVUS Awards® recognition program from Silicon Valley in the United States of America which also includes other programs such as Consumer World Awards, Customer Sales and Service World Awards, Golden Bridge Awards, Globee Awards, Info Security PG's Global Excellence Awards, Network Products Guide's IT World Awards, Pillar World Awards, PR World Awards, and Women World Awards. Learn more about the CEO World Awards and see the complete list of winners https://ceoworldawards.com/winners/2019-winners/.
About Merchants Fleet: Merchants Fleet is the 8th largest fleet management company nationally. Merchants provides clients with the most high-touch service and innovative experience across the industry, for fleets from one vehicle to over 5,000 with flexible terms from three months to seven years. Our unique technology platforms coupled with specialized fleet teams provide the most comprehensive FleetTech solutions to drive proven results. Find out more at merchantsfleet.com.