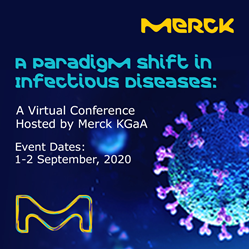 SINGAPORE (PRWEB) August 25, 2020
Merck, a leading science and technology company, will host A Paradigm Shift in Infectious Diseases: Lessons from a Pandemic, on September 1-2. The virtual conference brings together experts throughout the Asia Pacific region and beyond to share scientific knowledge and provide discourse on the topic of infectious disease and immunity.
The two-day conference is split into four, half days covering four topic areas:

The science of infectious disease.
The economics of disease control (including considerations for public health).
Diagnosis and innovation during a pandemic.
Vaccine development and therapeutics.
World-renowned speakers from the field will be presenting their latest research in a series of pre-recorded lectures. Kicking off proceedings, Jerome H. Kim, MD, director general of the International Vaccine Institute, will devote 45 minutes to the topic "COVID-19 Vaccine Development and Review," including an overview of published data from vaccine clinical trials in the context of the current fast-track development of a SARS-CoV-2 vaccine. Each presentation is followed by a moderated live Q&A.
Produced on LabRoots' robust platform, connecting across all desktop and mobile devices, the interactive experience also includes four, 15-minute digital booth tour sessions per topic area.
We look forward to having you join us for this informative event. For more information or to register, click here.
About Merck
Merck, a leading science and technology company, operates across healthcare, life science and performance materials. Around 57,000 employees work to make a positive difference to millions of people's lives every day by creating more joyful and sustainable ways to live. From advancing gene editing technologies and discovering unique ways to treat the most challenging diseases to enabling the intelligence of devices – the company is everywhere. In 2019, Merck generated sales of €16.2 billion in 66 countries.
Scientific exploration and responsible entrepreneurship have been key to Merck's technological and scientific advances. This is how Merck has thrived since its founding in 1668. The founding family remains the majority owner of the publicly listed company. Merck holds the global rights to the Merck name and brand. The only exceptions are the United States and Canada, where the business sectors of Merck operate as EMD Serono in healthcare, MilliporeSigma in life science and EMD Performance Materials.
About LabRoots
LabRoots is the leading scientific social networking website, as well as a primary source for scientific trending news, premier educational virtual events/webinars and more. Contributing to the advancement of science through content-sharing capabilities, LabRoots is a powerful advocate in amplifying global networks and communities. Founded in 2008, LabRoots emphasizes digital innovation in scientific collaboration and learning. Offering articles and webcasts that go beyond the mundane and explore the latest discoveries in the world of science, LabRoots users can stay atop their field by gaining Continuing Education Credits from a wide range of topics through their participation in the webinars and virtual events.