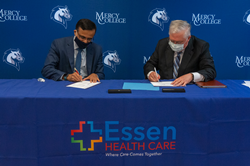 BRONX, N.Y. (PRWEB) June 28, 2021
Essen Health Care and Mercy College today announced the Family Nurse Practitioner (FNP) Jumpstart Program to provide a pathway for students and employees to becoming Primary Care Providers. The FNP Jumpstart Program is a collaborative agreement where Essen Health Care will recommend qualified employees, including International Medical Graduates, to enroll in Mercy College's Family Nurse Practitioner Master of Science Program.
"Essen Health Care and Mercy College have a mutual mission: to improve the livelihood of the Bronx community," says Dr. Sumir Sahgal, Founder and Chief Medical Officer of Essen Health Care. "Mercy College has a fantastic program and we're so excited to offer this to our staff so they can not only further themselves in their own career paths but give back to our community by providing vital care to some of the most vulnerable members of the population."
Mercy College and Essen Health Care believe educating FNP students in the Bronx will provide a pipeline of qualified nurses to provide much needed primary care services to the Bronx community. The FNP Master of Science Program offered by Mercy College is a one-year program designed for professional nurses who hold a Bachelor of Science in Nursing or a Master of Science in Nursing. This advanced degree will provide the training and skills necessary to provide lifelong, comprehensive care through disease management, health education and primary care health services to patients. The program will be offered both online and in-person at the Mercy College Bronx Campus which includes state-of-the-art facilities and is nationally accredited by CCNE, AANP and ANCC.
"Mercy College is excited to partner with Essen Health Care to expand our Family Nurse Practitioner Program in the Bronx to their staff," said Mercy College President Tim Hall. "We are looking forward to welcoming these students and helping them to continue their path to serving our community."
The FNP Jumpstart Program is scheduled to begin in the Fall 2021 semester. Essen Health Care will nominate 15 of the most qualified candidates, including International Medical Graduates, to apply for admission. Once accepted, Mercy College will offer a pathway through the program including discounted tuition for Essen Health Care employees enrolled into the FNP program.
About Essen Health Care
Essen Health Care is the largest privately held multi-specialty medical group based in the Bronx with six integrated clinical divisions offering primary care, urgent care, and specialty services, as well as house call services, care management, and leads care for over 60+ nursing homes. Founded in 1999 by Dr. Sumir Sahgal and guided by a population health model of care, Essen Health Care is a growing community healthcare network and group practice with over 150 Primary Care and Specialty Care Physicians and over 100 advanced clinicians providing high quality, compassionate, and accessible medical care to over 100,000 of the most vulnerable and under-served residents of New York State. Essen Health Care is dedicated to ensuring the quality of care for all patients and has been designated a 'Level 3 Patient Centered Medical Home' by the National Committee for Quality Assurance.
About Mercy College
Founded in 1950 by the Sisters of Mercy, Mercy College is an independent, coeducational college that offers more than 90 undergraduate and graduate degree and certificate programs within five schools: Business, Education, Health and Natural Sciences, Liberal Arts and Social and Behavioral Sciences. The vibrancy of the College culture is sustained by a diverse student body from around the region. The College offers campuses in Dobbs Ferry, Bronx and Manhattan as well as online offerings.