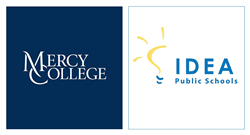 DOBBS FERRY, N.Y. (PRWEB) August 16, 2022
Mercy College and IDEA Public Schools (IDEA) have partnered to provide high school students from across Texas, Southern Louisiana, Florida and Ohio the opportunity to achieve college access and success. Under this partnership, Mercy College and IDEA Public Schools will develop programs to support college acceptance, matriculation and completion for IDEA students and alumni, many of whom are from low-income households and are the first in their families to attend college. The first cohort of students under this partnership are targeted to start at Mercy during the fall 2023 term.
The partnership will further both organizations' success by providing IDEA students the opportunity to participate in pre-college activities at Mercy, mentorship and guidance by Mercy staff, and financial support through Mercy's financial aid services. IDEA students at Mercy will receive services from IDEA's College Success counselors and advisors, as well as Mercy's nationally recognized PACT mentorship program, to support their overall college experiences.
"Our mutual missions of providing students from all backgrounds a high-quality, equitable education that gives them the knowledge and skills to earn a college degree makes Mercy's partnership with IDEA Public Schools a natural one," said Scorpio Rogers, vice president of Mercy College's Bronx and Manhattan Campuses. "The partnership expands the geographic reach of Mercy's services while broadening each institution's ability to close equity gaps, change life trajectories and prepare students to meet future workforce demands. We hope it can serve as a model for future collaborations that aim to mitigate disparities in education."
"We are thrilled to formalize our partnership with Mercy College," said Phillip Garza, chief college officer for IDEA Public Schools. "This is especially important given our shared pursuit of democratizing higher education so that more young people can realize their dreams by first completing their college degree."
Both Mercy College and IDEA Public Schools have developed comprehensive, evidence-based support programs that have helped their student populations overcome social and economic barriers to college success and see high rates of achievement.
Mercy College is the largest private, not-for-profit federally designated Hispanic Serving Institution (HSI) in New York State, with campuses in Manhattan, the Bronx and Dobbs Ferry. The College's total enrollment is approximately 9,000 students, with 39% of students identifying as Latino and 60% of the undergraduate population identifying as first-generation. Seventy-five percent of Mercy freshmen are eligible for Pell grants. Mercy's year-to-year retention and graduation rates have increased in the past decade.
Established in 2000, IDEA serves more than 83,000 students in 143 schools across Texas, Southern Louisiana, Florida and Ohio. In terms of student body demographics, 70% of IDEA students identify as first-generation. Since 2007, IDEA has graduated 9,528 students and has seen 100% of their student population accepted to college for the 15th consecutive year.
For more information about IDEA Public Schools, please contact Alicia Guerrero at 956-373-5507. For more information about the partnership between IDEA Public Schools and Mercy College, please contact Mercy College Vice President for Enrollment Management Adam Castro at acastro@mercy.edu or 914-674-7548.
About Mercy College
Founded in 1950 by the Sisters of Mercy, Mercy College is an independent, coeducational college that offers more than 100 undergraduate and graduate degree and certificate programs within five schools: Business, Education, Health and Natural Sciences, Liberal Arts and Social and Behavioral Sciences. The vibrancy of the College culture is sustained by a diverse student body from around the region. The College offers campuses in Dobbs Ferry, the Bronx and Manhattan as well as online offerings.
About IDEA Public Schools
IDEA Public Schools believes that each and every child can go to college. Since 2000, IDEA Public Schools has grown from a small school with 150 students to the fastest-growing network of tuition-free, Pre-K-12 public charter schools in the United States. Currently, the network serves nearly 83,000 college-bound students in 143 schools across Texas, Louisiana, Florida and Ohio. IDEA has been recognized as a "Great Place to Work" and received national rankings on The Washington Post and U.S. News & World Report's Top High Schools lists. IDEA remains on-track to uphold its legacy of sending 100% of its graduates to college.