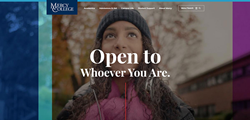 DOBBS FERRY, N.Y. (PRWEB) October 08, 2020
Mercy College, in support of its commitment to service excellence, today launched an innovative new website that aims to simplify the college search process for the thousands of students seeking their next step. With a simplified navigation optimized for both smartphone and desktop use, the new Mercy.edu focuses on presenting important information prospective students and their families need at the right time, all while continuing to serve current students, faculty and staff.
Understanding the academic offerings of an institution is one of the primary pieces of information sought by undergraduate and graduate students alike. A new feature allows visitors to filter degrees and program options not only by their schools and graduate level, but also by their interests in broader categories like "Healthcare" or "Art and Media". This new feature as well as more prominent information about application requirements and instructions, financial options and increased availability of both admissions staff and academic faculty decreases overall barriers to potential students. Additionally, a new design increases the visual appeal and ease of navigation in finding critical information users desire.
The new site also vastly improves its search accessibility for popular search engines like Google and Bing allowing for direct connection with relevant content to the web user. It also incorporates accessibility best practices that adhere to Section 508 and Web Content Accessibility Guidelines (WCAG) accessibility requirements, which ensure that people with disabilities can access information on the website. Furthermore, it incorporates best practices related to General Data Protection Regulation (GDPR) requirements, which ensure strong data privacy for all visitors. With additional integration and security features such as multi-factor authentication and single sign-on, the website and data are well-protected. A new data encryption feature protects sensitive data in the database.
With this new design and infrastructure, prospective students, current students, faculty and staff will enjoy a rich web experience designed to provide access to the right information at the right time to each audience. The new website was designed in consultation with NewCity, a nationally recognized consulting, design, and development firm specializing in digital strategy and enterprise level websites for colleges, universities, and large non-profit clients. Their multidisciplinary team helps solve critical challenges for complex organizations through a human-centered approach to design and technology.
About Mercy College
Mercy College is the dynamic, diverse New York City area college whose students are on a personal mission: to get the most out of life by getting the most out of their education. Founded in 1950, Mercy is a coeducational and nonsectarian college that offers more than 90 undergraduate and graduate degree and certificate programs within five schools: Business, Education, Health and Natural Sciences, Liberal Arts and Social and Behavioral Sciences. With campuses in Dobbs Ferry, Bronx, Manhattan and Yorktown Heights, the vibrancy of the College culture is sustained by a diverse student body from around the region.