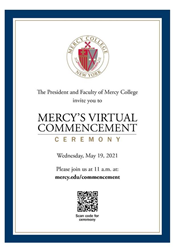 DOBBS FERRY, N.Y. (PRWEB) May 12, 2021
Mercy College will celebrate its 2021 graduates at a Virtual Commencement Ceremony on May 19, 2021 at 11 a.m. Due to the unpredictability of COVID-19 guidelines the College determined a virtual ceremony was the best option to ensure graduates could celebrate this milestone without the risk of cancellation. Several in-person events were organized at the College in the weeks leading up to commencement including an in-person individual academic procession on the Dobbs Ferry Campus where graduates will walk across a dedicated stage on the Dobbs Ferry Campus, hear their name read, receive a graduation certificate and have professional photos taken. The in-person processions will be live-streamed for family and friends.
The virtual ceremony will include remarks from the distinguished Honorary Degree recipients and student speakers, acknowledgment of awards and the conferring of degrees by Mercy College President Tim Hall. Following the college-wide celebration, students and guests will be invited to join a ceremony specific to their School where they will see their name and photo announced across the screen. To ensure that students can participate in the pivotal moment of switching their tassels to mark their status as graduates, Mercy sent a graduation package to all students, which included a cap and tassel. The College is encouraging students to commemorate their "Tassel Moment" by sharing photos and videos on social media.
"Conferring degrees at Commencement is one of my favorite moments of the academic year," said Mercy College President Tim Hall. "This year it is even more meaningful as we celebrate the hard work and perseverance of our 2021 graduates and recognize all they have overcome to earn their degrees during a global pandemic."
In keeping with tradition, the ceremonies of each of the five Schools at Mercy will include remarks from five alumni speakers who have demonstrated leadership in the health, arts, business, education and civic fields. Honorary degrees will be bestowed to the speakers for their lifetime achievements and outstanding contributions to society.
The Honorary Degree recipients and speakers include:
School of Social and Behavioral Sciences: Rep. Jamaal Bowman, M.S. '06, Ed.D., represents New York's 16th District, which includes the Northern Bronx and parts of Westchester County, including Yonkers, New Rochelle, and Mount Vernon. Bowman was born and raised in New York City, spending his early years in public housing and rent-controlled apartments. After graduating from the University of New Haven, Bowman began his career as a crisis intervention teacher in a Bronx public school and went on to earn a master's degree in counseling from Mercy College and a doctorate in education from Manhattanville College. In 2009, Bowman founded Cornerstone Academy for Social Action — a Bronx middle school focused on unlocking the natural brilliance of all children through a holistic curriculum. He was elected to Congress in 2020, he is dedicated to passing visionary policy that infuses climate justice with economic and racial justice, highlighting the importance of research and investing in communities of color.
School of Education: Andrea S. Coddett '95, Ed.D., is the founder and CEO of Empowered Learning LLC, an educational consulting firm committed to improving life outcomes for underprivileged, disenfranchised and differently abled youth. She is also an adjunct professor at both Mercy College and Fordham University where she teaches graduate and doctoral educational leadership courses. Coddett began her career in education as a special education teacher. Across her almost 30 years as an educator, she worked as a building-level math specialist, a district math specialist, an early childhood principal/director, an elementary school principal, director of secondary special education, assistant superintendent and deputy superintendent. She earned a doctorate in executive leadership from Fordham University, master's degrees in curriculum and instruction with a reading specialization and educational administration from Pace University and a bachelor's degree in psychology from Mercy College.
School of Business: Michael Hayes '92 is a partner in KPMG's investment management practice where he provides audit and business advice to investment funds and endowments. He has deep industry knowledge in areas such as financial reporting, internal controls, valuation and governance. In addition to speaking at several industry seminars, he leads a quarterly roundtable of CFOs, COOs and controllers of alternative investment funds based in Connecticut and Westchester County. He received his bachelor's degree in public accounting from Mercy College. Hayes serves on Mercy College's Board of Trustees as well as on the boards of several not-for-profit organizations in health and welfare, education and the arts. He is a volunteer firefighter in his hometown of Katonah, New York.
School of Liberal Arts: Paulette J. Oliva '81 is a founding member, managing partner and executive vice president at marketing firm MeritDirect. She specializes in B2B customer acquisition and retention, including the development of customized solutions for lifetime value, reactivation and attribution — employing modeling and analytics for data-driven results. During her career, her clients have included top B2B marketers such as L.L. Bean, Godiva, the Wall Street Journal, Kiplinger, Staples, Yahoo! and 4Imprint. Oliva received her bachelor's degree in music from Mercy College and currently serves on the Mercy College School of Business Advisory Board and the Baruch College Zicklin School of Business Marketing Advisory Board. She also served as president of the Direct Marketing Club of New York (DMCNY). Oliva has performed in two off-Broadway productions and many regional and local productions. She also produced the Tony-nominated musical "The Prom."
School of Health and Natural Sciences: Michele A. Quirolo '79, '82, is a 42-year veteran in the field of home health care and hospice. For over two decades, she was the president and CEO of the Visiting Nurse Association of Hudson Valley (VNA), the area's largest provider of home care services, which merged with Northwell Health in 2017. Upon her retirement from the VNA/Northwell, Quirolo provided consulting services through Quirolo Consulting, LLC. Quirolo is has severed as an adjunct professor at Mercy since 2006 and on the Board of Trustees since 2018. She has served on the board of the National Association of Home Care & Hospice (NAHC) and currently serves on the board of the Home Care Association of NYS (HCA-NYS). Quirolo's dedication to the field has been recognized through various honors and accolades, including being inducted into the NAHC Hall of Fame in 2009 and receiving HCA-NYS's Ruth F. Wilson Award and the Distinguished Public Health Service Award from the Westchester County Board of Health. She received her bachelor's degrees in behavioral science and nursing from Mercy College and her masters's degree in nursing administration and community health from Pace University, Mercy College has recognized her achievements with the Distinguished Alumni Award and the Dr. Carolyn Lansberry Alumni Award.
To learn more and to watch the 2021 Virtual Commencement Ceremony on May 19, 2021 at 11 a.m. visit this link: mercy.edu/commencement
About Mercy College
Mercy College is the dynamic, diverse New York City area college whose students are on a personal mission to get the most out of life by getting the most out of their education. Founded in 1950, Mercy is a coeducational and nonsectarian college that offers more than 90 undergraduate and graduate degree and certificate programs within five schools: Business, Education, Health and Natural Sciences, Liberal Arts and Social and Behavioral Sciences. With campuses in Dobbs Ferry, Bronx and Manhattan, the vibrancy of the College culture is sustained by a diverse student body from around the region.