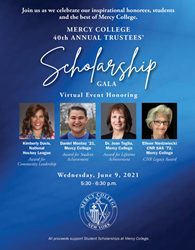 DOBBS FERRY, N.Y. (PRWEB) April 22, 2021
Mercy College, a diverse liberal arts college with four campuses in the New York City area, will recognize four individuals for their dedication to education, athletics and community at the College's 40th Annual Trustees' Scholarship Gala on Wednesday, June 9. The College will host the annual event on a virtual platform to enable more guests to attend safely while preserving social distancing guidelines.
Mercy will honor Kimberly Davis, the National Hockey League's Senior Executive Vice President, Social Impact, Growth Initiatives & Legislative Affairs, with the Community Leadership Award. Joan Toglia, Ph.D., Dean of Mercy's School of Health and Natural Sciences, will be presented with the College's Lifetime Achievement Award. The CNR Legacy award, inaugurated last year, will be given to Eileen Niedzwiecki CNR SAS '72, a graduate of the College of New Rochelle who serves as Mercy's Director of Development, CNR Alumni Relations. Daniel Montez '21, a Mercy College business honors student graduating in May, will receive the Award for Student Achievement.
Kimberly Davis currently holds a senior position at the National Hockey League (NHL), the foremost professional ice hockey league in the world. In this capacity, Davis leads a role reporting to NHL Commissioner Gary Bettman to attract, develop and retain fans – with a specific focus on multi-cultural audiences – through culture, youth participation and social impact initiatives. Davis has been recognized by Hockey News's "2020 Top 100 Most Influential Leaders in the Sport," Essence Magazine's "2019 Woke 100 Change Agents," Adweek's "30 Most Powerful Women in Sports," Sports Business Journal's "GameChangers," and Savoy Magazine's "Most Influential Women in Corporate America."
Joan Toglia, Ph.D. has been an influential leader at Mercy College since her arrival in 1994. She is the founding director of the Graduate Occupational Therapy (OT) Program, and since 2013 has served as dean of the School of Health and Natural Sciences. In that role, she oversees eight academic departments and approximately 3,400 students. In addition to her work at Mercy, Toglia is an Adjunct Clinical Professor of Cognitive Science in Rehabilitation Medicine at Weill Cornell Medical College in New York City, where she conducts clinical research, clinical consultations and in-service/training to OT clinicians.
Eileen Niedzwiecki CNR SAS '72, has been a valued supporter and advocate for The College of New Rochelle alumni since graduating from that venerated institution in 1972. She has remained actively involved for nearly 50 years, as a key staff member for 15 years and as a long-time volunteer. She has served as Director of Alumni Relations, Director of Major Gifts and Planned Giving, and Associate Vice President. Niedzwiecki joined Mercy College in August 2019 to lead the transition of CNR alumni to the Mercy College fold. Since that time, she has dedicated herself to creating the CNR Legacy Council, establishing the CNR Legacy Scholarship Fund and engaging with thousands of CNR alumni.
Daniel Montez '21, a business honors student, has earned his reputation as a dynamic student leader throughout his years at Mercy. He co-founded Mercy Leaders, a group that launched Operation Backpack to provide school children in Washington Heights with needed school supplies. He has participated in the Student Philanthropy Club and has worked as an assistant student supervisor for Lessing's Food Service, a Mercy Community Partner and previous honoree, for over three years. Originally from San Antonio, Tex., he is committed to giving back to society by helping to educate future generations, especially low-income children, to realize their dreams. Montez, who will graduate in May, will be continuing his studies in Mercy's Graduate School of Business.
Past honorees include Hoda Kotb, journalist and author who co-anchors NBC's "The Today Show"; Duncan Niederauer, former CEO of the New York Stock Exchange; Alex R. Ferrari '82, former EVP and former COO of MTV; singer and actress Liza Minnelli; Sister Theresa Kane, award-winning author and social justice advocate; and Dr. Gregory H. Williams, MBA '14, an attorney and law professor who served as president of The City College of New York and president of the University of Cincinnati.
To purchase sponsorships or register for the event, please contact Alexis Rothenberg, Director of Alumni Relations and Special Events at (914) 674-7607 or events@mercy.edu. To learn more about the event visit: http://www.mercy.edu/2021gala.
About Mercy College
Mercy College is the dynamic, diverse New York City area college whose students are on a personal mission: to get the most out of life by getting the most out of their education. Founded in 1950, Mercy is a coeducational and nonsectarian college that offers more than 90 undergraduate and graduate degree and certificate programs within five schools: Business, Education, Health and Natural Sciences, Liberal Arts and Social and Behavioral Sciences. With campuses in Dobbs Ferry, Bronx, Manhattan and Yorktown Heights, the vibrancy of the College culture is sustained by a diverse student body from around the region.