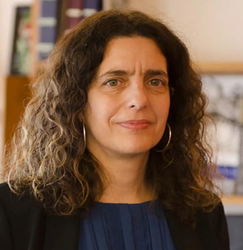 DOBBS FERRY, N.Y. (PRWEB) May 12, 2021
Mercy College announces the appointment of Linda Bastone, Ph.D., as Associate Provost for Faculty Affairs, effective June 1, 2021. In this role, she will work collaboratively with faculty, deans and administrators to strengthen the College's infrastructure for faculty personnel and development, student academic support and program accreditation — all with the goal of advancing student success.
Most recently, Bastone worked at Purchase College, State University of New York (SUNY) as Associate Professor of Psychology and Program Director of the NIH-funded MARC U-STAR Honors Program, an initiative designed to increase the academic, social and economic capital of students from underrepresented groups who aspire to obtain doctoral degrees and pursue research careers in STEM. Previously, she served in several other administrative roles at Purchase College, including Director of the School of Natural and Social Sciences, Chair of Psychology and Chair of Liberal Studies.
"We are very pleased that Dr. Linda Bastone will join us at Mercy," said José Herrera, Ph.D., Provost and Vice President for Academic Affairs. "She has demonstrated a deep commitment to great teaching and student success. We look forward to working with her to ensure that we are fulfilling the College's mission, delivering transformational education and helping our students thrive."
"I am truly honored to have been selected as Associate Provost for Faculty Affairs," said Bastone. "I am excited to work with Provost Herrera and Mercy's dedicated administrators, faculty and staff as we continue to ensure that all students have access to an excellent education and the resources they need to succeed."
As an educator, researcher and administrator, Bastone has worked to understand the factors that facilitate or impede academic success and to design interventions to ensure that success is attainable for all students. Her commitment to students was recognized with several awards, including the SUNY Chancellor's Award for Excellence in Teaching in 1999, the SUNY Chancellor's Award for Faculty Service in 2004 and the Friend of Educational Opportunity and Merit Access Programs in 2013.
Bastone has many years of experience designing and refining courses, curricula and programs to facilitate students' success. She taught courses in psychology, college writing, research methods and behavioral statistics. She designed Purchase College's first freshman seminar and coordinated summer advising and registration for incoming students before the college created and staffed an advising center. She also directed other externally funded initiatives to support transfer students, underrepresented students in psychology and community college students studying the social sciences and humanities.
Her research interests include the causes and consequences of stereotyping and prejudice as well as factors that promote the academic success and engagement of underrepresented students. She uses psychological theory to design interventions that increase students' sense of belonging, feelings of efficacy, academic identity, focus on the future and connection to a community of scholars. Her scholarship also includes examinations of the ways in which faculty and administrators can work together to increase equity in higher education.
Bastone earned her Ph.D. in social-personality psychology from the Graduate Center, City University of New York and her bachelor's degree in psychology and philosophy from the State University of New York at Binghamton.
About Mercy College
Mercy College is the dynamic, diverse New York City area college whose students are on a personal mission to get the most out of life by getting the most out of their education. Founded in 1950, Mercy is a coeducational and nonsectarian college that offers more than 90 undergraduate and graduate degree and certificate programs within five schools: Business, Education, Health and Natural Sciences, Liberal Arts and Social and Behavioral Sciences. With campuses in Dobbs Ferry, Bronx, Manhattan and Yorktown Heights, the vibrancy of the College culture is sustained by a diverse student body from around the region.