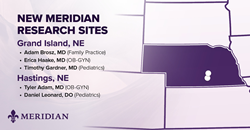 "Whether it's someone seeking a new treatment option for a condition they're fighting, or a healthy volunteer wanting to help advance medicine, Nebraskans can drive the development of next-generation therapies through clinical trials." Nicole Osborn, CEO of Meridian
GRAND ISLAND, Neb. (PRWEB) July 20, 2020
Meridian Clinical Research, a leading multi-specialty investigative research network, has opened new sites in Grand Island, NE, and Hastings, NE.
Meridian is partnering with Adam Brosz, MD, Erica Haake, MD, and Timothy Gardner, MD, in Grand Island. The physicians will serve as principal investigators to conduct clinical trials related to general medicine, women's health, pediatrics, and infectious diseases. The site will operate within the Grand Island Clinic at 2444 West Faidley Avenue, Grand Island, Nebraska 68803.
In Hastings, Meridian is partnering with Tyler Adam, MD, and Daniel Leonard, DO, to oversee women's health, pediatrics, and infectious disease clinical trials. The site will operate at 2115 N. Kansas Ave., Suite 102, Hastings, NE 68901, near the Obstetricians & Gynecologists, PC., and Children & Adolescent Clinic offices.
Meridian is currently enrolling participants for numerous COVID-19 vaccine trials at sites across the nation, including its location in Grand Island. Participants will receive study-related exams, and an investigational COVID-19 vaccine or placebo at no cost. Eligible participants will also receive compensation for study-related time and travel.
When COVID-19, Ebola, and the Zika virus outbreaks began in recent years, several Meridian sites in Nebraska were among the world's first to enroll patients in vaccine studies.
Meridian's Grand Island and Hastings sites will also begin conducting a study to determine if an investigational vaccine for mothers can prevent respiratory syncytial virus (RSV) illnesses in infants after they're born.
"We're excited to expand our reach in Nebraska with region-leading physicians," said Nicole Osborn, Founder and CEO of Meridian. "Whether it's someone seeking a new treatment option for a condition they're fighting, or a healthy volunteer wanting to help advance medicine, Nebraskans can drive the development of next-generation therapies through clinical trials."
Meridian was founded in Omaha in 1999, and has enrolled more than 42,000 participants into clinical trials. The company's Grand Island and Hastings sites are now enrolling participants for clinical trials.
If you're interested in joining a clinical trial at Meridian, visit mcrmed.com/find-study. For more information about careers at Meridian, visit mcrmed.com/careers.
---
ABOUT MERIDIAN CLINICAL RESEARCH
Meridian Clinical Research Meridian partners with pharmaceutical and biotechnology companies to research new drugs, medical devices, and diagnostics that could improve human health and wellbeing. Founded in 1999, Meridian is a multi-specialty site network headquartered at its dedicated research center in Omaha, NE, and conducts Phase I-IV studies at investigative sites across North America. Meridian supports research across numerous therapeutic areas and excels in high-volume vaccine trials. For more information, visit mcrmed.com.