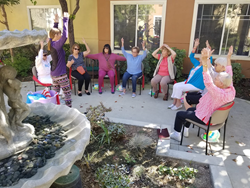 Embracing Active Aging Week allowed us to live our mission: 'We enrich the lives of our residents, families and employees through extraordinary experiences … because Everyone Deserves A Great Life!'
BETHESDA, Md. (PRWEB) October 15, 2019
Meridian Senior Living (Meridian) communities celebrated Active Aging Week October 1-7 by showcasing on social media a variety of exhilarating programs and events that keep residents active at Meridian communities across the country. Since 2003, Active Aging Week, founded by the International Council on Active Aging, has motivated adults ages 50+ to attain a full, active lifestyle globally. This year's theme is "Redefining Active" which emphasizes "a broader engagement—physically, socially, cognitively, spiritually, professionally, and civically."
"Meridian Senior Living is thrilled to celebrate Active Aging Week in its more than 70 communities across the U.S.", says Kevin Carlin, Principal and Chief Sales Officer. "Embracing Active Aging Week allowed us to live our mission: 'We enrich the lives of our residents, families and employees through extraordinary experiences … because Everyone Deserves A Great Life!'"
Meridian's activity programs are developed to enrich residents' lives physically, spiritually, and intellectually. Research conducted by The National Institute on Aging at NIH shows that older adults realize benefits from participating in productive and enjoyable leisure activities such as attaining an enhanced ability to perform daily tasks, managing illnesses such as diabetes, osteoporosis, and heart disease, maintaining health and physical strength, improving balance, and enjoying better mood, engagement, and overall emotional well-being.
Spreading the word about the importance of seniors engaging in active lifestyles, Meridian community Facebook pages are filled with posts of residents enjoying programs, activities and events that enrich their bodies and minds. Meridian community residents are shown participating in physically based activities such as: sock hops, chair exercises, bocce ball, bowling, bicycling, walking clubs, Senior Sneakers with hand weights, shopping excursions, basketball, fishing, Zumba, and gardening. Residents are also showcased participating in wellness activities in the Facebook posts including yoga, tai chi, arts and crafts projects, mindfulness meditations with essential oils, and nutrition classes. Some posts feature Meridian's RevInMo program, available at select Meridian communities, which is designed to keep residents physically active while enhancing neurological health. Results have been amazing as participants have realized dramatic improvements in strength, speed, and flexibility. These posts include information such as why the residents enjoy staying active and specific physical and quality of life benefits gained from participating in the activity.
To see Meridian residents in action, please visit these links to some of our Active Aging Week community posts: Brentwood at Elkhart, Cypress Place, Spring Oaks, Legacy Oaks of Sacramento, Gentry Park of Orlando, Brentwood at Niles, Chapel Hill Senior Living, Eastlake Terrace, Wood Haven Senior Living, Brookstone of Aledo, Landings of Huber Heights, and Bradenton Oaks. For more details and photos of Meridian community Facebook posts, visit #ActiveAgingWeek and #ActivewithMeridian on Facebook.com.
To learn more about a Meridian Senior Living community near you, visit http://www.meridiansenior.com.
About Meridian Senior Living:
Meridian Senior Living, a privately held company based in Bethesda, Maryland, owns and operates seniors housing communities across the country and provides operational consulting to 24 communities in China. With more than 70 communities in 21 states and more in development, Meridian is one of the largest seniors housing operators in the U.S. The company prides itself on providing the highest quality care, exceptional lifestyle programming and a distinctive dining experience for its residents. For more information on Meridian Senior Living, visit meridiansenior.com.