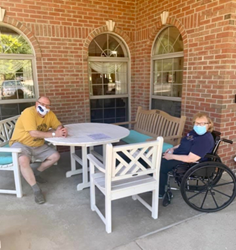 We are excited to offer Table Talks to Meridian communities to support connection, engagement, and socialization that residents and family members need in a safe manner.
BETHESDA, Md. (PRWEB) June 18, 2020
Meridian Senior Living (Meridian) is excited to launch the Table Talks program to support resident and family engagement safely in select locations where government health departments have relaxed COVID-19 guidelines to allow for outdoor visitation at assisted living facilities.
Table Talks enables family members to visit and engage with residents after months of limited face-to-face interaction with prior visitation restrictions. These visits take place in an outdoor oasis planned and set up at the community to provide comfort and privacy. All surfaces in the oasis will be disinfected between visits for safety.
"Our priority is not only to meet the medical, mental, physical, and nutritional needs, but also the psychosocial needs of our residents," says Kevin Carlin. "We are excited to offer Table Talks to Meridian communities to support connection, engagement, and socialization that residents and family members need in a safe manner."
"This is such a wonderful program to reunite our residents and their families," says David Henke, Executive Director of Brentwood at LaPorte in LaPorte, IN. "It is already infusing so much joy, smiles, and life in our community."
Introducing the Table Talks program is an important key to support social engagement among the resident population. The National Institute on Aging has conducted several research studies that show a correlation between social interaction among older adults and their health and well-being. These emotional bonds can lead to healthier lifestyles including eating healthy foods, being active, and ceasing poor health habits.
As the COVID-19 virus is still prevalent and can be devastating to vulnerable populations, communities participating in Table Talks will continue to be vigilant in implementing strict infection control measures in conjunction with following and adhering to CDC in conjunction with local and state Departments of Health guidelines. To strive for the safest possible interaction, the Table Talks program has strict rules for participation. Some restrictions include that the visitor is required to schedule an appointment, undergo screening such as health questionnaires and temperature checks, limit number of visitors, wear a mask, and maintain physical distancing of six feet during the entire visit.
Meridian Senior Living Communities are still open and are admitting new residents for move-ins. In these times of isolation, it had been particularly difficult for older adults who may not have options to go out to obtain necessary items or socialize as society reopens. Meridian communities provide dedicated staff that are trained and certified to assist in daily support functions such as bathing, dressing, medication management and especially the ability to immediately respond to crisis situations. Furthermore, Meridian communities work diligently and creatively to ensure that their residents are engaged every day by providing activities such as hallway exercises, gardening, crafts, and creating music. To learn more about Meridian and find a community located near you, visit the website: meridiansenior.com or Facebook page: @Meridian Senior Living.
About Meridian Senior Living:
Meridian Senior Living, a privately held company based in Bethesda, Maryland, owns and operates seniors housing communities across the country and provides operational consulting to 24 communities in China. With more than 70 communities in 21 states and more in development, Meridian is one of the largest seniors housing operators in the U.S. The company prides itself on providing the highest quality care, exceptional lifestyle programming and a distinctive dining experience for its residents. For more information on Meridian Senior Living, visit meridiansenior.com.