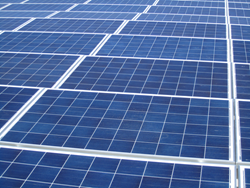 Austin, Texas (PRWEB) November 19, 2015
On Saturday, November 21st, when Austin Habitat for Humanity celebrates the grand opening of their new ReStore and Community Home Center, it will be quietly powered by solar energy. Austin Habitat for Humanity (AHFH) partnered with local solar developer, Meridian Solar, to install a 254 kW system on the roof of the newly renovated facilities.
Meridian Solar, one of the oldest solar developers in the state of Texas, was responsible for designing, engineering, installing, and commissioning the turn-key, roof-mounted system. The 1,081 solar modules will reduce energy costs and are expected to generate enough energy to offset the carbon emissions associated with 270 tons of carbon dioxide each year.
Solar energy is complementary to the efforts that will take place within the new ReStore. As a recycling initiative, the ReStore has diverted 17 million pounds of reusable materials from landfills by selling donated building materials, furniture, appliances, and fixtures to the community at a discount. All revenue from the ReStore is then cycled back into funding the building of homes, communities, and hope for low-income Austin families.
"Austin Habitat for Humanity is an excellent case study for demonstrating direct and indirect benefits of distributed generation. Its investment in solar directly reduces its utility cost obligations, which in turn liberate financial resources that can be applied towards their mission of strengthening our community," explains President and Founder of Meridian Solar, Andrew McCalla.
"Our commitment to sustainability is comprehensive," CEO of Austin Habitat for Humanity, Phyllis Snodgrass, says. "Homeownership opportunities create enduring futures; the ReStore recycling initiative preserves the environment; the Home Repair Program facilitates stable living conditions. Now, with the support of Meridan Solar, we are able to deepen this commitment by focusing on sustainable energy."
The public is invited to celebrate the grand opening of the new ReStore and Community Home Center on Saturday, November 21st, at 500 W Ben White Boulevard.
About Meridian Solar: Headquartered in Austin, Texas, Meridian Solar specializes in the development, engineering, construction, and financing of high-quality solar electric generation projects. Since 1999, Meridian Solar has designed and built more than 600 installations with an installed capacity of over 40 MW across 15 states. http://www.meridiansolar.com
About Austin Habitat for Humanity: Austin Habitat for Humanity is dedicated to ending the cycle of poverty and deeply holds the belief that everyone deserves a decent and affordable place to live. Their goal is to empower community members and give them better control of their futures through home-ownership. Over the past 30 years, they have built over 400 homes, repaired more than 240 existing homes, and provided ongoing education classes to more than 10,000 clients. http://www.austinhabitat.org