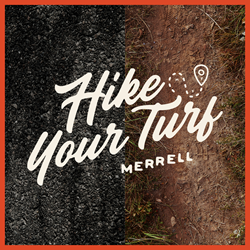 ROCKFORD, Mich. (PRWEB) November 17, 2020
In honor of National Go Take a Hike Day, Merrell, the outdoor performance and lifestyle brand, today unveiled "Hike Your Turf," a digital campaign that reminds us you don't have to go far to gain the benefits of the outdoors and that the best hikes can be found anywhere, including just outside your front door. The campaign was developed in partnership by Merrell's strategic advertising agency, Words From The Woods and will run across digital and social platforms for five weeks.
"Hike Your Turf" encourages people to embrace the great outdoors just beyond their own front doors. Created around the insight that hiking is commonly associated with planning, packing, and driving hours for the perfect trail, this campaign highlights the accessible opportunities in every neighborhood. Since COVID, Americans have embraced this concept and are spending more time outdoors locally with the majority saying they plan to continue once the virus subsides.
"Research proves even a short walk outside can reduce stress levels by 16 percent," said Erika Derylo, Performance Marketing Manager at Merrell. "We're thrilled to see outdoor participation on the rise since the onset of COVID, with more people experiencing the simple power of the outside on sidewalks, streets, and parks while hiking their turf. At Merrell, we believe getting outside should be accessible, safe, and a joyful experience for everyone."
The new campaign includes a series of social videos educating people about the positive benefits of the outdoors, raising awareness for National Take a Hike Day and informing people which Merrell shoes and boots are best for different types of local hikes.
"Merrell has always been an inclusive brand focused on making the outdoors and hiking accessible to all," said Meranne Behrends, Strategy Director and Co-Founder of WFTW. "Our research revealed just because people have been stuck at home, doesn't mean they have to be stuck inside. We're excited to remind people through the 'Hike Your Turf' campaign a trail goes wherever you're walking and you don't have to go far to feel like you did."
To enjoy the "HIke Your Turf" campaign, please follow @merrell.
ABOUT MERRELL
Merrell® exists to share the simple power of being outside. We believe the trail is for everyone. Our goal is to provide thoughtfully designed, rigorously tested products that over-deliver on performance, versatility and durability. Visit Merrell.com, the Merrell newsroom, or follow us on social at @merrell.
ABOUT WORDS FROM THE WOODS
Words From The Woods (WFTW) is a strategic advertising agency born in Portland, Maine. We are rooted in hard work and being kind to others. Our team of researchers, creatives and designers deliver heart, humanity and words from the woods to help brands tell their stories most effectively. To check out our merch follow us at @wordsftwoods.