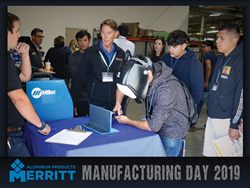 Merritt Aluminum Products is excited to participate in this national event to promote modern manufacturing, said Taylor Merritt-CEO.
DENVER (PRWEB) December 05, 2019
Every year the manufacturing community across the nation comes together to celebrate Manufacturing Day in hopes of educating and encouraging the next generation of workers to consider an exciting career in the manufacturing industry. Merritt Aluminum Products is supportive and excited to participate in this national event to promote modern manufacturing, said Taylor Merritt, CEO.
In this era of artificial intelligence and advanced technology many young adults neglect to consider a career in manufacturing because of the preconceived notion that new technologies are not present in the field. Through this annual event, manufacturers across the nation open their doors to students, business professionals and the public to shatter those misconceptions and shed some light on the many forms of advanced technology, engineering, and powerful computing utilized every day in the manufacturing industry.
On Friday, October 4th, 2019 Merritt Aluminum Products opened its factory doors to the public to tour the facility and celebrate Manufacturing Day with food, fun, and a virtual welding challenge hosted by General Air and Miller. Business professionals and students of all ages attended the event including welding students, local high schools, and home school groups. Fort Lupton's Mayor, Zo Stieber also stopped by to show her support for this important annual event.
Employees from Merritt Aluminum Products led factory tours highlighting their engineering and 3-D printing department along with computer-automated machines while walking visitors through the step-by-step journey of creating heavy-duty aluminum truck accessories. After the tours, guests were encouraged to stick around and visit the company career college fairs hosted by Aims Community College, Community College of Denver, and Front Range Community College. Merritt Aluminum Products also invited all guests to enjoy a complimentary food truck lunch and to embark on some friendly competition with outdoor games set up along the large outdoor tent area.
With the ongoing goal of educating and inspiring the next generation about the importance of manufacturing, the Merritt Aluminum Products team has started brainstorming how to make the 2020 Manufacturing Day celebration bigger and better than ever. This annual event will be held on Friday, October 2nd of 2020 so stay tuned as Merritt Aluminum Products finalizes plans to make this event more interactive, educational, and entertaining.
About Merritt Aluminum Products:
Merritt Aluminum Products Company is North America's leading manufacturer of aluminum accessory products for the heavy-duty trucking industry. With over 65 years of experience in the manufacturing business and a reputation for the highest quality products in the industry, we are passionate about the products we produce and the customers we serve. We believe that having strong moral principles in everything we do supports our mission to provide total customer satisfaction by producing high quality, high performance products, with exceptional customer service.