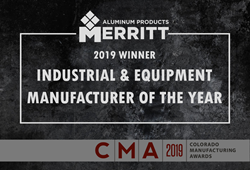 "Without great people, none of it is possible. We've got a great team. I'll put them against anybody in the industry." -- Taylor Merritt, Chairman and CEO, Merritt Aluminum Products
DENVER (PRWEB) July 29, 2019
Merritt Aluminum Products Company today announced that it has been named the winner of the Colorado Manufacturing Awards (CMA) in the Industrial and Equipment category during the fourth-annual Gala Awards Reception on April fourth at the University of Denver's Cable Center. Merritt Aluminum Products was selected above two other formidable contenders in the Industrial and Equipment category.
Despite significant challenges with tightness in the Denver area labor market and volatility in the company's supply chain due to tariffs and sanctions, Merritt Aluminum was able to successfully grow its revenue by 27% and maintain production efficiencies at or near 100% throughout 2018. Additionally, the company has been making significant strides to focus on the company's Core Values and company culture. This improvement was recognized by ColoradoBiz Magazine with an Award of Excellence in Culture Momentum in November of 2018.
To help combat the labor shortage facing their community, Merritt partnered with Morgan Community College on a welding program designed to teach students transferable skills. Merritt also helped develop an internship program for at-risk students at Fort Lupton High School, providing exposure and access to a wide range of opportunities in the manufacturing industry. Three students participated in the welding internship program. Two of the three candidates accepted full time positions upon completion of the program and the third student plans to seek employment with the company upon completion of his senior year.
"Without great people, none of it is possible. We've got a great team. I'll put them against anybody in the industry," said Taylor Merritt, Chairman and CEO, Merritt Aluminum Products. This team has made Merritt Aluminum Products a leading manufacturer of aftermarket accessories for the heavy duty truck market.
About Merritt Aluminum Products:
Merritt Aluminum Products Company is North America's leading manufacturer of aluminum accessory products for the heavy duty trucking industry. With over 65 years of experience in the manufacturing business with a reputation for the highest quality products in the industry. We are passionate about the products we produce and the customers we serve. We believe that having strong moral principles in everything we do supports our mission to provide total customer satisfaction by producing high quality, high performance products, with exceptional customer service.