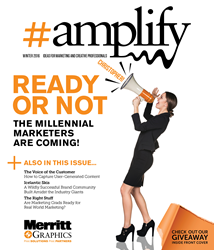 A good percentage of our customers are Marketing Executives and Designers. This publication is written for them so naturally it seemed a perfect fit for us.
Hartford, CT (PRWEB) March 30, 2016
Marketers are continually being introduced to new technology and platforms, new trends, new buzz words-- sometimes it seems that keeping track of it all could be a full-time job within itself. Not only is there an overabundance of topics to stay current with, but there are also hundreds of sources for each topic.
Joseph Merritt Company, a 108 year old business headquartered in Hartford, CT is no stranger to change. In order to maintain its print industry leader status, in its ever-changing business climate, Merritt strategically expanded the range of print and marketing solutions offered to its customers. It has witnessed firsthand how these solutions have helped customers develop stronger engagement and relationships with their customers and, in turn, grow their organizations and brands. Continuing with this theme, Merritt's small format printing division, Merritt Graphics Print Solutions, was looking to deliver valuable content to their customers and package it in one easily accessible resource.
Merritt is bringing up-to-date and exciting articles to their customers and colleagues through the quarterly magazine #amplify. The articles throughout the publication are written in a "dip in, dip out" style for quick reads for busy professionals. "A good percentage of our customers are Marketing Executives and Designers. This publication is written for them so naturally it seemed a perfect fit for us," says Ed Perry, President and CEO of Merritt. "The articles are a worthy read for anyone in business including salespeople and fellow CEOs." Merritt uses direct mail marketing as part of their marketing efforts and are excited to have added this to their content strategy. "It is essential that the information we are sharing resonates with our audience, and from our initial feedback, it seems we have provided that," added Perry.
The winter edition of #amplify brought recipients informative engaging articles such as "Capturing the Voice of the Customer: User-Generated Content" and "10 Things Marketers Need to Know About a Mobile Marketing Strategy and Mobile Apps," in addition to a marketing case study on the brand Icelantic Skis. The CEO discussed the power of brand partnerships, building an email list, and creating a community of followers. The magazine also includes valuable tools and resources, fun infographics for download, and quarterly giveaways. Merritt distributed the magazine to clients via mail and a digital flipbook version of #amplify can be found on their website.
The Spring edition, featuring an interview with Content Marketing guru Joe Pulizzi, will be mailed in April. Merritt invites interested parties to join their mailing list. Learn more online at http://www.merrittgraphics.com/print-solutions/amplify .
Merritt Graphics Print Solutions is the smaller-format printing division of Joseph Merritt Company, headquartered in Hartford, CT. The company currently serves various markets including: insurance, social assistance, pharmaceutical, financial services, retail and tradeshow. Merritt Graphics uses advanced printing technologies and sources quality substrates to consistently deliver high-end results. In addition to print, Merritt offers direct mail, web to print, kitting and fulfillment services.
For more information on Merritt Graphics please visit http://www.merrittprintsolutions.com