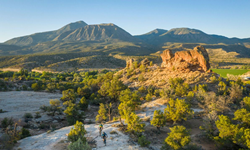 Mesa Verde Country is becoming one of the West's best mountain biking destinations. We have more than 600 miles of trails that are less crowded than in other popular mountain biking destinations, and you can ride longer into the fall in Mesa Verde Country.
CORTEZ, Colo. (PRWEB) September 29, 2020
In the era of the pandemic, people are longing for experiences that are both memorable and safe. Mesa Verde Country in Southwest Colorado encourages folks to visit the Four Corners region for mountain biking this fall. Mountain biking is a natural safe-distance activity, and the opportunity to reconnect with nature while recreating in Southwest Colorado during one of the most beautiful seasons is a winning combination.
"Mesa Verde Country truly is becoming one of the West's best mountain biking destinations," said Kelly Kirkpatrick, Executive Director of Mesa Verde Country. "We have more than 600 miles of trails that are less crowded than in other popular mountain biking destinations, and the warmer climate in our corner of Colorado means you can ride longer into the fall in Mesa Verde Country."
Kirkpatrick added that Mesa Verde Country businesses have taken precautions to safely welcome guests during the coronavirus pandemic. "Our communities look forward to hosting you for a safe vacation with plenty of room to spread out and explore," she said. "We just ask that as you're packing your bike gear and sunscreen you also remember to bring along your new preventative behaviors – regular hand-washing, physical distancing, masks and covered coughs." She added that anyone who feels ill should postpone their trip.
Trails
From single tracks to challenging climbs in the San Juan Mountains, Mesa Verde Country offers trails that traverse slick rock, old-growth forest and even ancient ruins. There are three distinct trail systems in Mesa Verde Country. Sand Canyon Trail in Canyons of the Ancients National Monument is arguably the only place in the world where riders can tackle single track and slick rock while riding past ancient cliff dwellings. Phil's World boasts 60 miles of mind-blowing trails, and is located just six miles from Cortez. It has the perfect mix of beginner, intermediate and advanced trails and is quickly becoming one of Colorado's most popular mountain biking spots. Boggy Draw is located near Dolores. The Boggy Draw Loop is fairly mellow and nine-miles long – perfect for family riding. To work up a real sweat, check out the 13-mile Bean Canyon Loop.
Après Bike
After a fun day on the trails, mountain bikers can enjoy local flavors sipping on the brews, wines and ciders in Mesa Verde Country. The area boasts five craft breweries – Dolores River Brewery, Main Street Brewery, Coyote J. Brewing Company, Mancos Brewing Company and the WildEdge Brewery in Cortez, which also features cider. Fenceline Cider | Outliers Cellars also has a taproom in downtown Mancos featuring ciders made from local apples. If wine is more your speed, check out Guy Drew Vineyards and Sutcliffe Vineyards.
Food & Lodging
There is no shortage of amazing food to help fuel your next ride. The area has cuisine covered from farm-to-table and locally grown to fresh and sustainable cuisine. Most restaurants are offering in-person dining or you can choose take-out. The Farm Bistro, Stonefish Sushi & More and Thai Cortez are favorite spots in Cortez, while Absolute Bakery & Cafe and Olio are must-visits in Mancos.
To rest up for the next single-track adventure, Mesa Verde Country has many options that range from cozy cabins and RV parks to Airstreams and yurts. Guest ranches, bed-and-breakfasts, and retro motels round out the options for a good night's sleep.
To learn more about mountain biking in Mesa Verde Country, watch this video or go to MesaVerdeCountry.com to begin planning your trip.
About Mesa Verde Country (http://www.mesaverdecountry.com)
Mesa Verde Country is in southwest Colorado near the entrance to the magnificent Mesa Verde National Park. The nearby towns of Cortez, Dolores, and Mancos provide accommodations, dining, outdoor fun and visitor services. Named the "Number One Historic Monument in the World" by Conde Nast Traveler and one of the "50 Places of a Lifetime-The World's Greatest Destinations" by National Geographic, Mesa Verde National Park is one of the nation's first World Heritage sites and the largest archaeological preserve in the country. Two national byways pass through Mesa Verde Country. In addition to the National Park, Mesa Verde Country is loaded with other archaeological attractions: Hovenweep National Monument, Canyons of the Ancients Visitor Center & Museum, Ute Mountain Tribal Park, Crow Canyon Archaeological Center, and the Cortez Cultural Center. Mountain biking enthusiasts have recognized Mesa Verde Country as one of the next great mountain biking destinations.
(end)
Contacts
Christy Nielson, Ore Communications, 206-399-1914, christy@orecommunications.com
Gaylene Ore, Ore Communications, 970-531-2336, gaylene@orecommunications.com