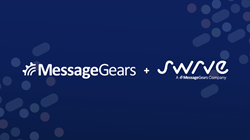 "We've created the preeminent end-to-end customer engagement platform for modern enterprises, where brands can unlock the power of their data and activate it across every digital channel. It's an exciting day for enterprise marketers!"
ATLANTA (PRWEB) January 12, 2023
MessageGears, the leading customer engagement platform for big consumer brands, today announced that it has acquired Swrve, the world's premier mobile app marketing platform that helps enterprise brands deliver stunning mobile experiences for their customers.
MessageGears' platform enables enterprise marketers to leverage zero- and first-party data to engage with their customers in highly personalized ways across email, SMS, and mobile apps. In pioneering the only enterprise solution that directly accesses brands' data repositories, instead of relying on cloud data syncs, MessageGears eliminates the latency, inflexibility, and other limitations that other marketing clouds and customer engagement platforms introduce. MessageGears services leading brands like Expedia, Indeed, OpenTable, Party City, Rakuten, and T-Mobile.
"For years, marketers have been stuck using archaic platforms that limit their ability to truly connect with their customers," said Roger Barnette, CEO of MessageGears. "In the next few years, we're going to see a wave of enterprise brands adopting new technologies that free them from those limitations. Our innovative approach helps the biggest brands in the world unlock the potential of their data so they can create experiences that blow their customers away."
With the acquisition of Swrve, MessageGears will be able to help enterprise brands reach and engage customers across the full spectrum of digital channels - email, SMS, in-app, mobile push, web, and TV. Swrve is the global leader in helping enterprise B2C brands deliver native, 1-to-1 personalized experiences inside their mobile apps, including mobile push, in-app, and embedded content. Global enterprise brands such as Playrix, Emirates, Ryanair, and Telefónica trust Swrve for best-in-class mobile app experiences.
With the acquisition, the combined employee and customer footprint across the United States and Europe helps bring MessageGears' unique, data-connected approach to a more global audience.
"We're thrilled to bring Swrve's industry-leading mobile app marketing capabilities into the fold," said Barnette. "The combination of Swrve's mobile push, in-app, and embedded content has made them a world leader in mobile app marketing. Now, as part of MessageGears, we've created the preeminent end-to-end customer engagement platform for modern enterprises, where brands can unlock the power of their data and activate it across every digital channel. It's an exciting day for enterprise marketers!"
MessageGears' investor Long Ridge Equity Partners, who led the company's recent
growth financing round, was advised by Clearwater International on the transaction.
About MessageGears
MessageGears is the only data-connected customer engagement platform built for today's enterprise. MessageGears is a radically different enterprise software company, delivering advanced customer segmentation and message personalization and delivery that simply outperforms other enterprise marketing clouds and data platforms. Through direct data access and innovative platform capabilities, marketers can deliver compelling customer experiences at massive scale, faster and more flexibly than ever before. MessageGears has transformed what marketers thought was possible at major brands like Expedia, Rakuten, T-Mobile, and Chick-fil-A. Learn more at messagegears.com.
Contact:
Kevin Wolf
kevin@tgprllc.com