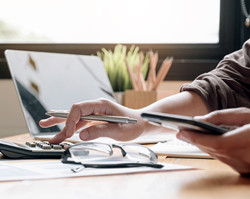 Traditional eDiscovery collection methods prove woefully insufficient to address the complexities of today's mobile information environment.
HOBOKEN, N.J. (PRWEB) January 30, 2020
Messaging Architects, an eMazzanti Technologies Company and email migration consultant, discusses mobile eDiscovery challenges, advocating a proactive approach to setting mobile device policies and leveraging technology partners in a new article on the Messaging Architects website.
The informative article reviews the increased complexity of today's mobile information environment, encouraging legal teams to stay up to date. The author then presents specific challenges to mobile eDiscovery, including complex BYOD environments, varied file formats, social media, cloud storage and frequent technology updates.
"Traditional eDiscovery collection methods prove woefully insufficient to address the complexities of today's mobile information environment," stated Greg Smith, Vice President of Services Delivery at Messaging Architects.
Below are a few excerpts from the article, "Proactive Approach Eases Mobile eDiscovery Challenges."
"Studies show that 90 percent of today's workers use mobile devices to conduct business. They check email on their smartphones, handle sales meetings from a laptop or carry out business conversations through messaging. Any of this information may prove relevant in the case of litigation. But several factors make collecting and processing that data challenging."
Complex BYOD Environment
"Many companies have adopted bring your own device (BYOD) policies. These policies save money in device costs, and employees see the practice as a key job benefit. But reduced technology expenses and increased employee productivity come at a cost. In addition to data security concerns, BYOD policies introduce significant complexities to eDiscovery."
Varied File Formats
"Consider all the various file formats on your smartphone right now. You likely use multiple applications for messaging, from native messaging apps to Messenger, Zoom and Marco Polo. In addition, you probably use word processing and notes apps, multimedia and social networking."
"This plethora of file formats represents one of the greatest mobile eDiscovery challenges and necessitates multiple collection tools and methods. In addition, files may require conversion to other formats for assessment. All of this increases the cost of eDiscovery, as well as the time involved."
More Mobile eDiscovery Challenges >>
Solutions to Mobile eDiscovery Challenges
As mobile eDiscovery challenges grow more complex, organizations face limited timeframes to gather evidence that will give them the upper hand in litigation. But a proactive approach to information governance can help.
Business leaders should involve legal counsel early on when crafting policies governing the use of mobile devices. In addition, they can leverage the expertise of technology partners. Messaging Architects brings a wealth of experience in both information governance and eDiscovery to help decision makers manage mobile resources efficiently.
Have you read?
Information Governance Essential to Control Mobile Data
6 Steps to Privacy Law Compliance for Retailers
About Messaging Architects
Messaging Architects specializes in effectively managing and securing an organization's most precious asset, its information. With over 20 years of information management and technology consulting experience, the Messaging Architects team has provided corporations, educational intuitions, health care facilities and nonprofits with methodologies, procedures and technology to keep their data organized, compliant and secure.
About eMazzanti Technologies
eMazzanti's team of trained, certified IT experts rapidly deliver increased revenue growth, data security and productivity for clients ranging from law firms to high-end global retailers, expertly providing advanced retail and payment technology, digital marketing services, cloud and mobile solutions, multi-site implementations, 24×7 outsourced network management, remote monitoring and support.
eMazzanti has made the Inc. 5000 list eight consecutive years, is a 4X Microsoft Partner of the Year, the #1 ranked NYC area MSP, NJ Business of the Year and 5X WatchGuard Partner of the Year! Contact: 1-866-362-9926, info@emazzanti.net or http://www.emazzanti.net Twitter: @emazzanti Facebook: Facebook.com/emazzantitechnologies.