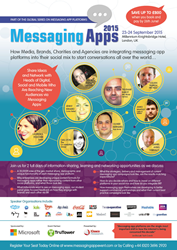 Messaging app platforms are the single most important shift in how the internet is being consumed this decade.
London, UK (PRWEB) June 17, 2015
"Messaging app platforms are the single most important shift in how the internet is being consumed this decade," says Jon Russell, Asia Editor at TechCrunch.
The stats agree: the 10 biggest messaging apps – with Whatsapp, Facebook Messenger, WeChat and Viber topping the list – collectively report over 3bn accounts globally, as reported by a recent Economist article. However, as seen at the launch of Facebook and Twitter, high chat and user activity doesn't necessarily translate into immediate revenue channels, leaving businesses challenged with a lack of 'success' measurement for their experimental messaging app campaigns.
So where are the business opportunities within messaging apps – and how can enterprise companies utilise these platforms and leverage its marketing, engagement and revenue potential? What consumer needs are messaging app platforms fulfilling?
At the Messaging Apps Conference set to take place in London this September, first-adopter organisations already integrating messaging apps in their social mix – including Evian, Coca-Cola, The Co-operative Group, BBC, Valencia FC and Comic Relief – will be sharing case studies and insight into their strategies, campaign deliver and results.
Trushar Barot, BBC; Julian March, NBC News; Laura Oliver, The Guardian and Chris York, the Huffington Post will share how they have been using messaging apps and video to engage younger audiences, whereas Strategists Ben Shaw and Damola Timeyin from BBH will share a case study for Clarks and Whatsapp in employing the platform to broaden their brand appeal.
Skype, Facebook Messenger, Kik and Tango Me will present live demos to showcase their technology as well as highlight opportunities for growth and re-engagement so that attendees can leave the event with a comprehensive view of possibilities.
With messaging app platforms like WeChat, Line and Kakaotalk in Asia already proving that there's revenue to be made – through their multi-faceted apps where third party content include games, ticketing, flight sales, hotel booking, grocery-shopping – this channel is something all Heads of Digital, Social, Mobile and Marketing and investors should be keeping a close eye on.
The Messaging Apps Conference will take place from 23-24 September 2015 at the Millennium Hotel Knightsbridge in London, UK. Complete event information is available online at http://www.messagingappevent.com.
Applications for limited VIP passes to the conference are now being accepted; conference pass fees will apply. Contact Kim Vigilia at kv(at)kisacoresearch(dot)com for enquiries.