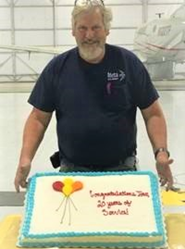 "I'm honored and excited to recognize Eno for his years of dedication to our company," said John Rahe, CEO of Meta Special Aerospace. "His commitment to the team and hard work is evident each and every day."
OKLAHOMA CITY, Okla. (PRWEB) March 29, 2021
Meta Special Aerospace is honored to recognize the dedication of our employee, John Eno, as he reached his 20-year anniversary milestone.
Eno began his aviation career over twenty years ago with Gulfstream. After joining Valair Aviation, now Meta Special Aerospace, he spent many of his early years working on the Commander aircraft. He now focuses primarily on the integration, restoration, and repair of King Air aircraft.
"I'm honored and excited to recognize Eno for his years of dedication to our company," said John Rahe, CEO of Meta Special Aerospace. "His commitment to the team and hard work is evident each and every day."
About Meta Special Aerospace
Meta Special Aerospace provides a full range of aerospace solutions from integrated Command, Control, Communications, Computers, Intelligence, Surveillance and Reconnaissance (C4ISR) operational services, to specialized training and exercise support, to advanced mission payload technologies, to Maintenance, Repair and Overhaul (MRO) and aircraft integration services.