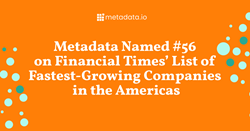 "It is an honor to be included on The Financial Times' 2021 list of Americas' fastest growing companies, especially at a time where many B2B technology vendors are struggling to show value to their customer base," says Gil Allouche, Founder & CEO at Metadata
SAN FRANCISCO (PRWEB) April 20, 2021
Metadata.io, the first demand generation platform, has been ranked No. 56 on The Financial Times' (FT) 2021 list of Americas' 500 Fastest Growing Companies. The list recognizes the most innovative and fastest growing companies in seven countries across North and South America. This recognition comes on the heels of a breakout year in 2020 for the company, securing an oversubscribed Series A and ranking as No. 233 in the Inc. 5000 Fastest-Growing Private Companies in America Annual List.
FT's Fastest Growing Companies list is composed of enterprises that contribute most heavily to economic growth, ranked by compound annual growth rate (CAGR) in revenue between 2016 and 2019. Out of millions of companies in North and South America, only 500 were selected for the inaugural list announced on April 13, 2021, and Metadata is pleased to be acknowledged for their autonomous demand generation software.
Metadata.io, founded in 2015, has reported an impressive growth rate of 1869.18% revenue growth over the past three years.
"It is an honor to be included on The Financial Times' 2021 list of Americas' fastest growing companies, especially at a time where many B2B technology vendors are struggling to show value to their customer base," says Gil Allouche, Founder & CEO at Metadata "Our growth and momentum is a result of our passion for helping B2B marketers optimize their campaigns to generate pipeline and revenue, not just leads. We cracked the code for B2B demand generation and look forward to continuing to help customers embrace autonomous software technologies to execute their marketing programs with tangible results, closer to revenue targets and goals."
About Metadata
Metadata is a demand generation platform that automates the most critical but often tedious tasks in marketing to help companies efficiently scale their demand generation efforts. Through machine learning, a proprietary corporate-to-personal identity graph, and automatic optimization to revenue KPIs, Metadata's platform generates demand from target accounts and converts them to customers much faster than legacy methods. Innovative B2B marketers at Zoom, G2, Okta, ThoughtSpot and Workato rely on Metadata to create harmony between marketing and sales, lower costs and save time, and ensure marketing drives revenue. Drive outcomes today at https://metadata.io/.