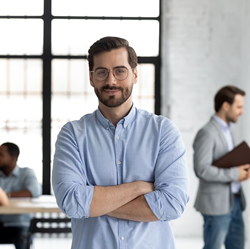 Without organization, data simply uses up space or, worse, inhibits business. Metadata management provides the key to harnessing the power of data.
HOBOKEN, N.J. (PRWEB) December 17, 2020
Messaging Architects, an eMazzanti Technologies Company and information governance consultant, explains metadata and how effective metadata management increases productivity, aids compliance and security, and extends the lifespan of data in a new article on the Messaging Architects website.
The informative article first briefly answers the question, "What is metadata?" and explains the three categories of metadata—descriptive, structural, and administrative. He then explains several ways that metadata management increases productivity, including making data more visible and enabling text searching for images and videos.
"Without organization, data simply uses up space or, worse, inhibits business," stated Greg Smith, Vice President of Services Delivery at Messaging Architects. "Metadata management provides the key to harnessing the power of data."
Below are a few excerpts from the article, "Metadata Management Unleashes the Potential of Enterprise Data."
What is Metadata?
"In simple terms, metadata is information about data. In the same way that cards in a card catalog provide information about books in a library, metadata describes data in a file, web page or database. Through solid metadata management, organizations establish standards and processes around the process of adding metadata tags to content."
Metadata Management Increases Productivity
"Metadata management increases productivity in several ways. First, it makes data more visible, thus facilitating data retrieval. Without metadata, finding necessary information or files can prove as challenging as the proverbial needle in a haystack. With metadata, just enter keywords, along with other parameters such as creation date, and narrow the field in seconds."
Aids Regulatory Compliance and Security
"Properly managed metadata increases digital security and helps organizations demonstrate proper access management for regulatory compliance. For instance, metadata tags can determine access and usage rights, as well as archiving. Additionally, they can provide an audit trail, indicating when a digital asset was created, modified and distributed."
Metadata Management, Essential to Information Governance
Metadata management and information governance go hand in hand to ensure the accessibility, security and quality of enterprise data. When decision-makers have quick access to relevant data, they save time and avoid costly mistakes.
Messaging Architects offers the expertise and tools needed to develop a comprehensive information governance program. Data management experts help organize and secure digital assets, optimize access management, and properly care for data throughout its lifecycle.
Have you read?
Business Process Modeling Used to Enhance Data Governance
Data Literacy Drives Corporate Strategy and Marketing Success
About Messaging Architects
Messaging Architects specializes in effectively managing and securing an organization's most precious asset, its information. With over 20 years of information management and technology consulting experience, the Messaging Architects team has provided corporations, educational intuitions, health care facilities and nonprofits with methodologies, procedures and technology to keep their data organized, compliant and secure.
About eMazzanti Technologies
eMazzanti's team of trained, certified IT experts rapidly deliver increased revenue growth, data security and productivity for clients ranging from law firms to high-end global retailers, expertly providing advanced retail and payment technology, digital marketing services, cloud and mobile solutions, multi-site implementations, 24×7 outsourced network management, remote monitoring and support.
eMazzanti has made the Inc. 5000 list 9X, is a 4X Microsoft Partner of the Year, the #1 ranked NYC area MSP, NJ Business of the Year and 5X WatchGuard Partner of the Year! Contact: 1-866-362-9926, info@emazzanti.net or http://www.emazzanti.net Twitter: @emazzanti Facebook: Facebook.com/emazzantitechnologies.